Products
How are unspectacular control elements turned into customized and functional design elements? By decorating them and providing them with one or more sensors. This is the response, in any case, from PolyIC, a wholly owned subsidiary of KURZ, with headquarters in Fürth, Germany.
Since 2003, the company of about 40 employees has developed printed electronics. For about ten years now, it has focused on sensors for a variety of touch functions. All indicators show that this technology, despite current economic difficulties, is a huge growth market.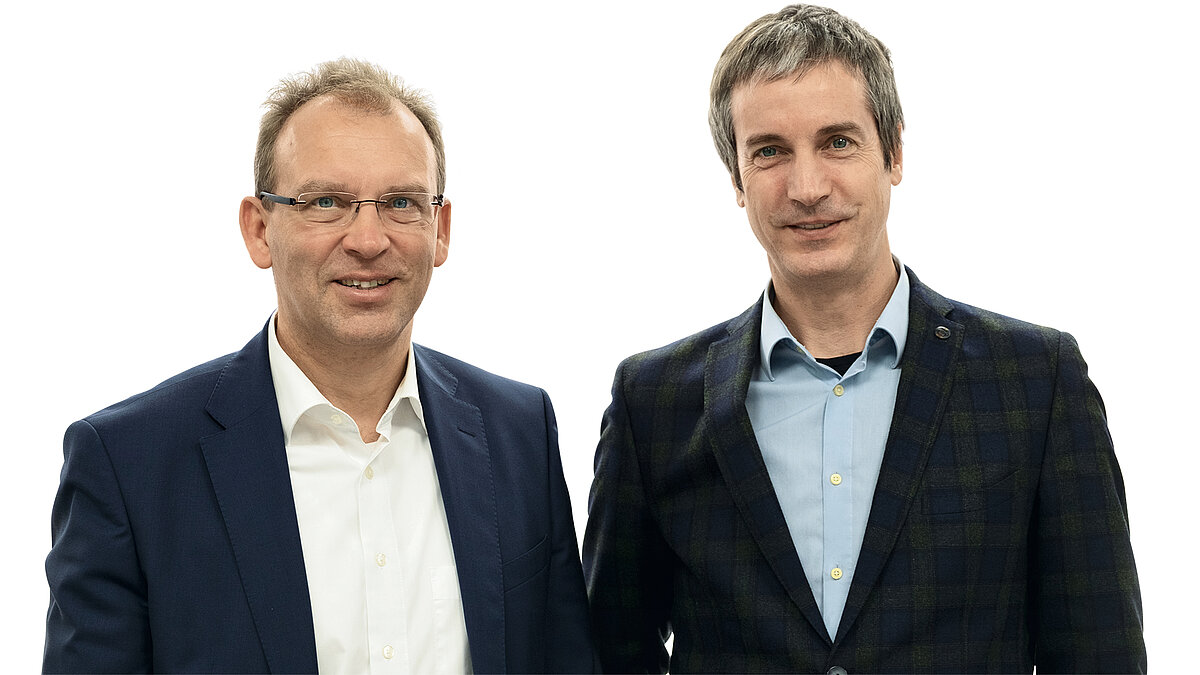 Nick Wagner and Dr. Wolfgang Clemens are especially excited over the great potential of PolyIC:
"Touch displays as user interface have changed our world as fundamentally as the smartphone. We are just at the beginning."
Translation: Many products that we are already familiar with will be completely redefined in the future by the integration of touch-sensor control elements into the layout of almost any surface. The transparent and conductive PolyTC foils from PolyIC open entirely new opportunities, because customized layouts and sensor systems in high quality and quantity can be produced. To give just a few examples: backlit surfaces, whose light color can be changed by slide control, in vehicle interiors. So, a seamless black Hidden-until-lit1 design like a window lifter, for example, is also a decorative design element. The actual control element is concealed under the surface, and is used like the touch display of a mobile phone by swiping, sliding or tapping with a finger. The story behind this is actually quite typical for KURZ, and typical for PolyIC. Nick Wagner puts it in a nutshell: "Developing a technology with the design and functionality to open entirely new opportunities for use and product design – that's a KURZ strong point."
---
1Hidden-until-lit means that control elements and icons remain invisible until activated for operation.

PolyIC can now not only print a multitouch sensor on polyester film, the sensor can even be backlit to become part of the surface and light design of the product. But what is so easily described in writing is actually the result of a lengthy development process full of fresh and false starts that ends with a razor-thin, transparent film with a metallized tail. The surface is printed with conductive metal mesh so fine that it can only be seen under a magnifier.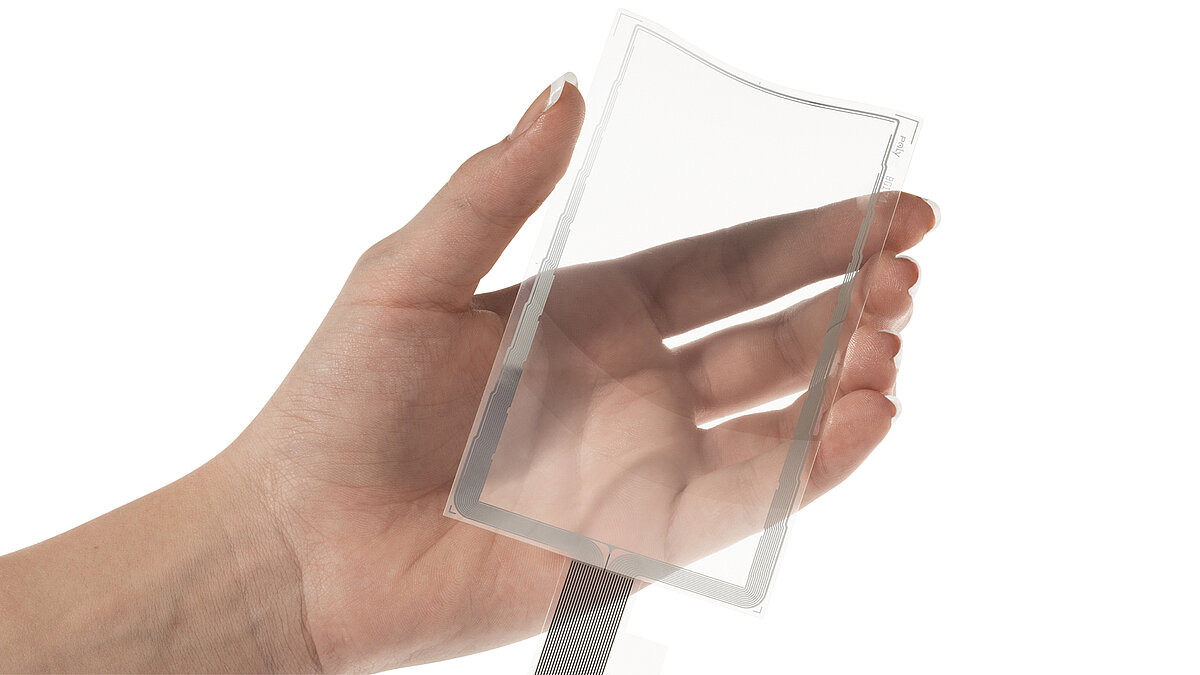 This mesh detects the touch of fingers or swiping; depending on sensor type, by one finger or even several. This feature is called Multitouch, and PolyIC needs only a single layer – an invaluable benefit when considering where such touch sensors are normally used. Every little bit less complexity is priceless, because it eliminates many sources of error. For instance, PolyIC supplies touch sensors for washing machines sold in South-East Asia, where they usually sit on balconies at tropical temperatures and up to 98 percent relative humidity. Since PolyIC requires only one layer of film to be protected from humidity, the number of potential sources of error or defects is significantly reduced.
"Developing a technology with the design and functionality to open entirely new opportunities for use and product design – that's a KURZ strong point."

Nick Wagner
Another advantage of PolyIC technology is that different sensors in any arrangement can be printed on film material from a roll. Then the labels, including the electric connections, are stamped out and integrated with the other elements (such as designs containing control elements) into the ready-to-install touch module. This facilitates the creation of unusual designs and surfaces as well.
To top it off, the touch elements form a connected surface, thereby marking a visible advance over previous steering-wheel models that trigger and control all functions with buttons and switches. Best of all, and due to the complex geometry and tight setting of the installation space, these functions can only be realized with a touch display from PolyIC. The sensors cannot be glued in manually as usual here, but the format-printed connection with the individual programming of functions and integration of touch displays via FFB, Functional Foil Bonding, a process patented by KURZ and PolyIC, can be realized. What's more, PolyTC sensors are moldable in three dimensions and thus an ideal solution for organic product designs. Incidentally, the assignment began as a 'test job' by an engineering firm and, thanks to its great success, gave PolyIC the chance to become an electronics supplier to a large German OEM in the automotive sector. This system is now in production and will be brought onto the market in 2020. Other projects with touch sensors for the automobile market have also been, or will be, completed this year.
PolyIC utilizes many of KURZ's areas of expertise for its projects, starting with the know-how for decoration of plastic surfaces, through to mechanical engineering and manufacturing automation.
A typical example is the already mentioned FFB technology. The process was first presented in 2018. It replaces the laborious manual labor previously required in the composition of such displays with an automated hot stamping process that can be directly connected to the injection molding. It eliminates, in one fell swoop, many disadvantages of the optical adhesives used to date. Unlike the Functional In-Mold Labeling2 used for sensor integration, FFB is not part of the injection molding process. In FFB, sensors are bonded to plastic parts using the stroke or roll-on process. Because this can be automated or done by the machine operator, the process very flexibly integrates into each production line and enables, for the first time, cost-efficient serial integration of sensors thanks to the precisely tunable process, even in curved control elements.
---
2Special process in injection molding in which the sensors placed into the injection mold are back-injected with plastic.
Wolfgang Clemens is already working on his next successful project – a touch display for white goods. The goal is to develop a display that can control all functions of the various models of the manufacturer's new washing machine line. The electronics and programming come from the manufacturer's electronics specialist, and the touch functionality and technology for integration into the control panel come from PolyIC; i.e. KURZ. Which is not to be underrated, because the touch sensors can be adjusted so that a custom-designed control panel can be provided to manufacturers for each washing machine model. They need simply change the design of the display, and the sensors are then programmed for the design. PolyIC thereby sets a milestone for efficiency and sustainability in production, because the number of touch-display units is especially high, thanks to the different programming. The touch-control trend and its impact on the market success of products can also be observed in many other devices, starting with modern fully automatic coffee machines, microwave ovens, ranges, and even electric toothbrushes.
"The touch display as a user interface will change our world as fundamentally as the smartphone. We are just at the beginning."

Dr. Wolfgang Clemens
Over the years, PolyIC has acquired comprehensive expertise in the field of electrical engineering as well, so it can provide its customers, upon request, a connection to touch displays on device electronics, for instance on display controllers for touch functionality. This means that customers receive, from a single source, decoration, printed connection, and integration into the actual electronics. For Nick Wagner, an unbeatable combination that should revolutionize the markets for white goods and automobile interiors: "We have now come so far that we can even equip low-end navigation systems in the vehicles of fleet operators with our displays. The technology is very versatile, as the individually adjustable light and color designs point up, which only become backlit and thereby visible upon approach. We also offer the option of creating completely connected operator interfaces, a real added value for our customers."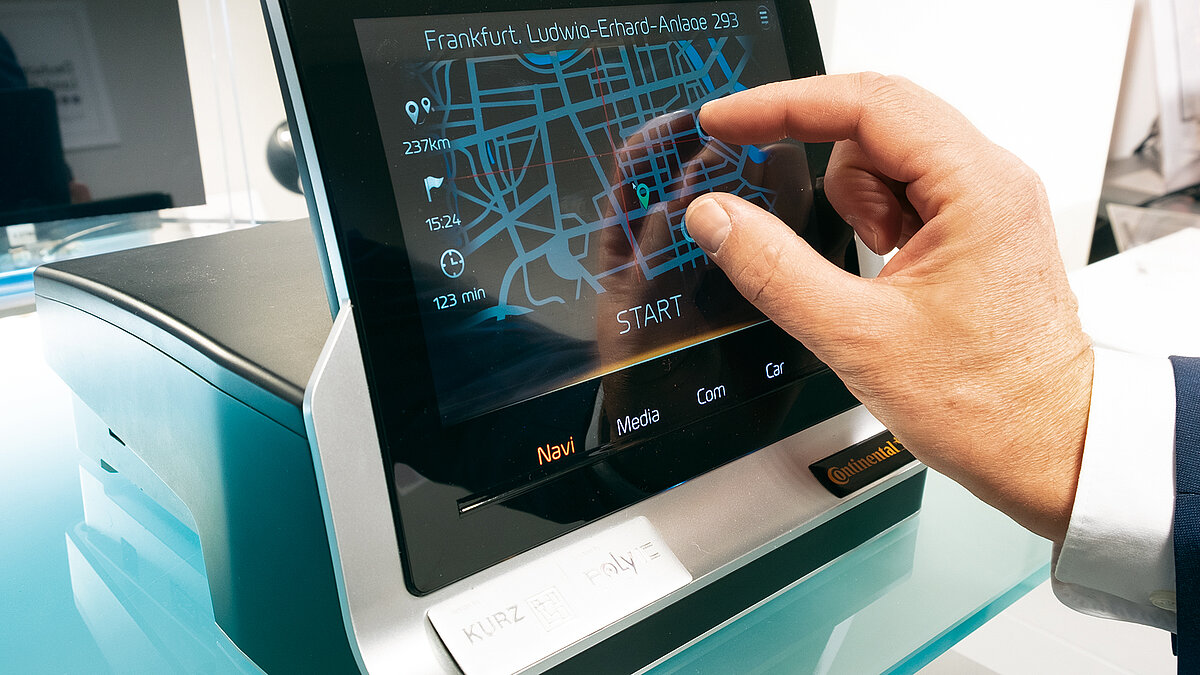 Feeling the way: touch display from PolyIC for a navigation system from Continental
PolyIC touch sensors are in many modern products, from A as in automobile to W as in water boiler. Current highlights include a volume controller integrated into the instrument cluster of the 2020 model of a German automobile manufacturer. Since the beginning of 2018, about 1.6 million touch controllers have been installed into different products, among them 1.2 million washing machines. The proven PolyIC technology is also used in over 15,000 coffee machines of a Swiss manufacturer. And more than 80,000 water boilers of a manufacturer in China work with the trendsetting touch technology of PolyIC.
Connected surface – controlled by touch: Control panel for hot-water supply in South-East Asia
Subscribe to newsletter
Validation error occured. Please enter the fields and submit it again.
Thank You ! Your email has been delivered.