Design
Why do products on shelves look the way they do? And in particular: What will they look like tomorrow? Annie Kuschel and Julia König of the Design Management Graphic Industry advise customers in the search for new finishing options for their products, and develop prize-winning boxes.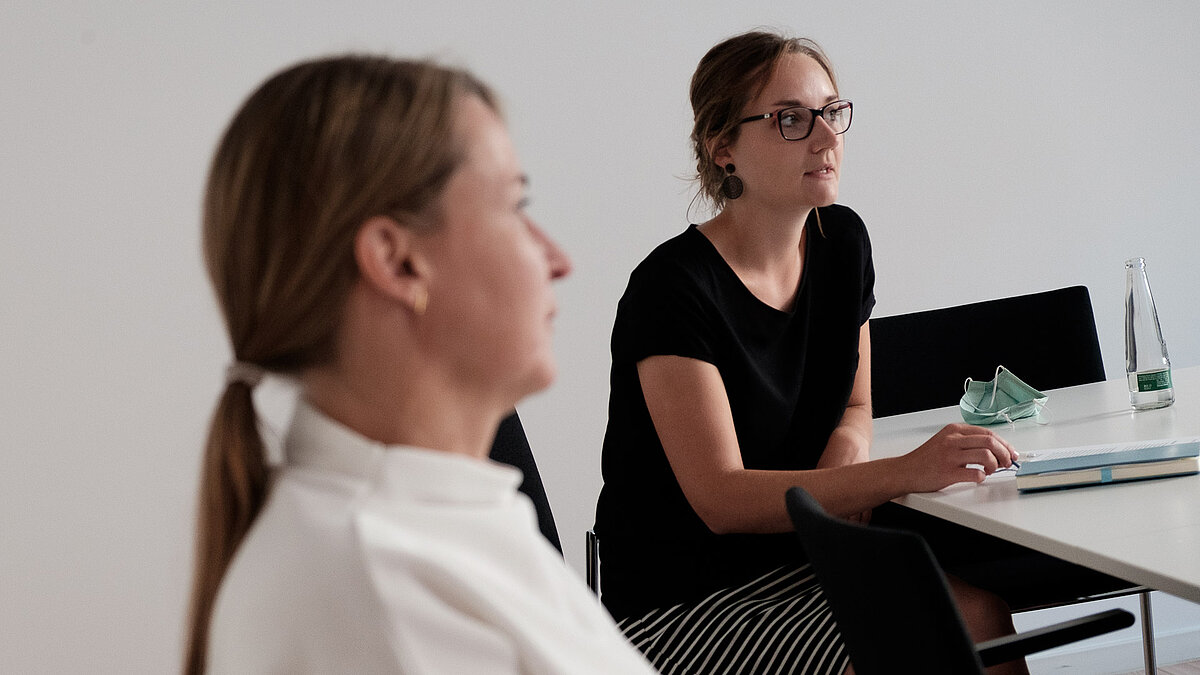 Orofin: Design is an extremely multi-layered term. What does it mean to you?
Annie Kuschel: Design is a creative process. There is always something new and innovative at the end. And in the best case, something that attracts attention. We have also witnessed how much design has changed. The strict separation of craft, design, and art, insisted on just a few years ago, hardly exists any more. Instead, one discipline flows into another to become a multi-layered, creative process.
Julia König: To many people, design is "making something beautiful". I think that's the worst definition of all. When I design something, it must not only fulfill an aesthetic need, it must be oriented toward a target group. I think that behind every design should always be a thought-out concept addressing a target group.
Orofin: How is your understanding of design reflected in your daily work?
Julia König: By investing a lot of conceptual work and passion into our projects. We only release what meets our commitment to quality. And we don't just consider the obvious, but always work out an overview of all possibilities, cross-industry as well, to come up with new solutions.
Annie Kuschel: It's always a balancing act between one's own quest for perfection and the time available. But even when it comes to hot topics, we always try to work cross-industry and make packaging that appeals to all.
Orofin: What added value does design offer customers of KURZ?
Annie Kuschel: To go far beyond just an appealing appearance. We are not just occupied with design, we are also advisers and conversation partners to the designers of our customers and of creative agencies. We support sales and assist in an advisory capacity for any queries. We often develop designs together with our customers and suggest colors that fit with their concept.
Julia König: We are the link between agency designers and industry processors. The latest developments from industry do not always reach creatives, and usually not fast enough. As trained designers, we want to connect and bring our exciting solutions to designers. That is the added value we offer our customers.
Orofin: What do you need to know to provide customers with outstanding support?
Annie Kuschel: As much as possible. We need to know who the target group is, which products are involved, which industry they are assigned to and – very important – what the customer wants to change.
Julia König: To make appropriate proposals and develop new ideas, we must also be familiar with the customer's understanding of their market and product. The more information we have, the more purposeful our work.
Orofin: It's always about surprising customers and showing them their product as they've never seen it. This is precisely why trends are especially important. How do you identify potential trends?
Annie Kuschel: All KURZ design teams work together on trend research, so Julia, our colleagues over at Plastics and Advanced Design, and I. We identify trends by keeping our eyes peeled and our ear to the ground. We attend trade fairs and events, speak with creatives and trend watchers from various industries, and take a lot of photos. Together with an agency, we cluster our observations, define key words, and step by step get a better picture of the trends.
Julia König: The more experience we gain, and the more we see, the better it works. Every year it gets easier to distinguish what's new, and what has been occupying the design world for some time. We have a sense for what's relevant, and can set our own focal points.
Orofin: And just what are these focal points?
Annie Kuschel: Unfortunately we cannot reveal current topics because we are currently in the process of sorting and compiling.
Julia König: We have observed for some time now that sustainability is becoming a new focal point. The increasing awareness of an urgent need for action to preserve the planet, and for new materials and processes, keeps designers all over the world busy and ready to experiment. Here at KURZ this issue is also a top priority. And is precisely the topic we have summarized under our trending topic 'Clearance'.
Orofin: What does such a translation of trends in design look like?
Annie Kuschel: It's a process. Together with our internal design colleagues, we put on workshops where we swap information and look into new trends and colors. This has enormous creative potential if we focus exclusively on the topics. From this 'foundation' emerge the first drafts, which we then translate into packaging, for example.
Julia König: We summarize the idea of a particular trend with keywords, an explanatory text, a range of colors, and mood boards. Once we are acquainted with the topics, we develop a stylistic vocabulary and color selection to explain the topic. This is how new motifs and surfaces are created.
Annie Kuschel: In the field of Graphics we have developed the 'Box in Box', and now the 'Box next to Box'. The trends become concrete design and color samples that we use to demonstrate new options and inspire our customers.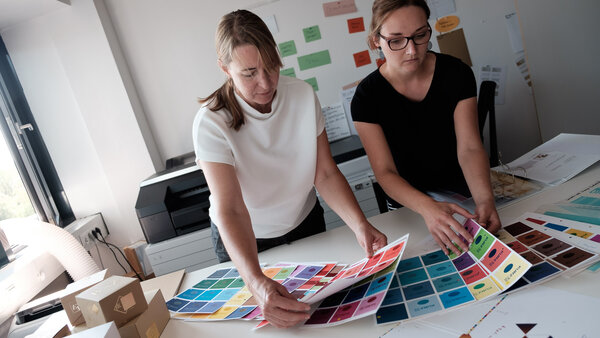 Julia König: We use the colors to develop our trend colors. We make a preselection from the color range of each topic, and then get together with colleagues from Development. Not all colors can be realized as a transfer product. This is also where we decide whether the subsequent product will be matte, glossy, or semi-transparent. All depending on how it fits into the trend. The first colors are then matched. This is how trends become tangible products.
Orofin: That sounds quite exciting. Is there something like a typical day?
Julia König: Not really. Our projects are so distinct that we can't really work according to a scheme. We must remain flexible to be able to react to tight timelines and spontaneous customer visits.
Annie Kuschel: No two projects are the same, that's why I find Design Management so appealing. KURZ has a very wide-ranging product portfolio, so we must always be able to adjust quickly to different target groups. It never gets boring and that's what makes it special.
Orofin: Thanks so much for the peek behind the curtains. We are already looking forward to this year's trends!
Subscribe to newsletter
Validation error occured. Please enter the fields and submit it again.
Thank You ! Your email has been delivered.