Design
The use of metallic foils in fashion is nothing new. Nearly every major collection draws on the amazing design possibilities of metal foils. But what happens when you put this material—which is otherwise used exclusively in industrial applications—into the hands of the designers of tomorrow? We look back on a unique partnership between KURZ, the Deutsche Meisterschule für Mode / Designschule München (a Munich-based fashion institute), and Munich Creative Business Week (MCBW) 2018.
The genesis of this extraordinary partnership came in 2015 when KURZ joined bayern design – a liaison between businesses and designers that coordinates and supports all public design activities in Bavaria with the aim of raising public awareness of the benefit of good design. To further this aim, bayern design launched MCBW in 2012. The event now attracts attention from well beyond Bavaria's borders.
So why exactly did KURZ become a member of bayern design? Designers tend to have little working knowledge of surface finishing. For this reason, KURZ always seeks contact with the designers of today and tomorrow. KURZ introduces them to the concept of surface decoration using its various finishing solutions while giving them the skills they need to use these technologies to their fullest effect.
As an expert in decorative and functional coatings, KURZ has always regarded design as something that unites. bayern design is a highly skilled partner in this arena and a driving force with unique networking opportunities. So, it's no coincidence that KURZ turned to its Marketing and Design Management team members to serve as liaison here. Elke Andersch (Marketing Manager of the Industrial Business Area) and Annie Kuschel (member of the Trend Team and Head of Design Management for the Graphic Industry) have made it their mission to define the ideal level of joint activities needed to make the partnership between the association and KURZ a success.
KURZ has taken part in MCBW itself since 2017. The design event—defined by the self-explanatory program constants of "DESIGN SCHAU!" and "CREATE BUSINESS!" – attracted 70,000 visitors last year. Annie Kuschel engineered the debut of KURZ at MCBW 2017 in Munich, presenting the latest fashion trend insights. KURZ surveys such trends at regular intervals, not least because of the deep roots of its various Business Areas in design.
This initial step engendered the idea of a partnership with the institute in the following year. The aim was to give students and teachers the opportunity for experimentation and innovative fashion design with embossing textile foils from KURZ. The enthusiastic response from MCBW, which established the relationship with the Deutsche Meisterschule für Mode / Designschule München, quickly led to the first joint projects. The institute's graduating class, for example, worked with metallized foils for the textile industry under the theme of 'expedition/confession' during 'Product Week' in February 2018.
At first, this sounds like a routine student assignment, but it's actually quite extraordinary. The subject matter alone forced the young men and women to really reach deep into their skill sets. Every journey, after all, traces a certain route but also has an entirely personal element – one that requires an inner compass, that calls for a clear-eyed view of the end game, and that ultimately demands a clear commitment. The context of the presentation was also challenging: The drafts were the final projects of the students. They were assigned to come to the hourglass-shaped hall of BMW World in Munich and don their outfits at the official opening of MCBW 2018— the largest design event for customers and designers in Germany, organized by bayern design.
KURZ has been a member of bayern design for several years now. The association offers multiple networking opportunities for both designers and companies alike. Events such as MCBW offer the perfect opportunity for KURZ as an industrial and technology company to show the full depth of its creative side. Here, KURZ finds networking opportunities far beyond its day-to-day business with a definite focus on products and solutions but driven more by inspiration, learning and marveling, plus by the desire to be surprised. And so, it's no wonder that KURZ takes advantage of partnership opportunities with the Deutsche Meisterschule für Mode / Designschule München and others to present itself as an expert in surface decoration and thin-film technology. At the same time, KURZ wants to be a disrupter and discover diverse, exciting, sensual interrelationships that manifest themselves throughout the process and in the end product.
This joint campaign is also a genuine model project for KURZ. That's precisely what the organizers of MCBW want: for designers and companies to come together through the act of creation. The beginning of a network that evolves into a productive dialog. All of which serves as a frame of reference to explore and sound out new possibilities.
What's interesting is that KURZ, as the driving force behind this project, has taken the next step on a rather new and exciting path that seeks more in-depth contact and partnership with creative protagonists. Normally – and especially in the fashion sector – it's only the 'major players' who work with KURZ foils. Students often simply lack access, while designers are not as aware as they could be of the full potential of the material. Nicola Bauer, Product Manager for Fashion at KURZ, is among those who address this topic quite openly: "We are tremendously happy about this fantastic joint project with the Deutsche Meisterschule für Mode. This partnership will bring together the designers of tomorrow with a product that is a magnificent creative stylistic device to lend their creations a unique and unmistakable look. Fashion designers are still largely unaware of the potential of our design foils."
The opportunity for young talents to suddenly get directly involved in working with the textile foils of a global market leader was a very conscious decision and one that was naturally also embraced by the decision-makers at the Deutsche Meisterschule für Mode / Designschule in Munich. Real-world projects are a core part of the prestigious institute's curriculum, after all. So, a boost for young talent? Definitely, but certainly a planned design experiment as well and a spectacular showcase, of course.
"With this project, the students have taken up the challenge of using unusual materials to create extraordinary yet wearable clothing creations. A partnership that combines technical foils with traditional, natural raw materials for clothing, uses skilled artisans, and incorporates cutting-edge technology has produced unique couture models. Tradition and modernity have never been more exciting."

Irene Schoppmeier, Director, Deutsche Meisterschule für Mode / Designschule München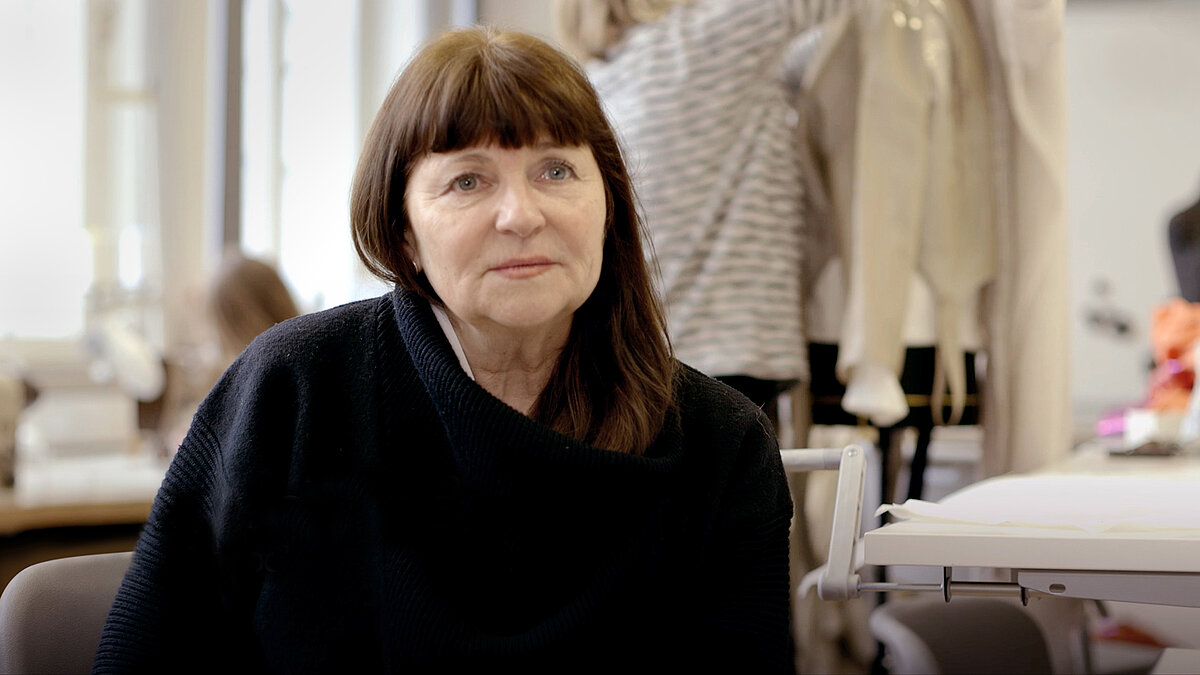 Irene Schoppmeier, Director of Deutsche Meisterschule für Mode / Designschule München, expressed her enthusiasm about the partnership with KURZ.
Somehow, when so many different factors come together in a project, anything is possible. Beyond the theme of 'expedition/confession' and the purely creative, design-related approach that this suggests, working with completely different materials also required the full concentration of the students. They did, after all, have to forge a functioning relationship between the essentially archaic fabric of linen and the futuristic, metallic, high-tech foils from KURZ. How would future fashion designers work with all the contrasts and inconsistencies? How would they translate what they had learned but also their own abilities, ideas, and vision into fashion? These questions are just as compelling as they sound.
Anyone who stopped by the sewing table or engaged the students in conversation found an impressive mix of inspired experimentation with the materials, an artistic-creative exploration, and a genuine buzz. And most notably, an almost detached professionalism that one would only expect in the studios of the great design and fashion houses.
So, it's not at all surprising that sixteen thoroughly inspiring outfits were presented – and applauded – at BMW World in Munich on March 5, 2018. But that's not all. The idea of the partnership, the magic of the entire process, the impressive work of the students, and of course the irresistible draw of MCBW, created a positive echo at and for KURZ that mingled with a good measure of pride and joy as well. The video documenting the project captures all of this perfectly. Take a look for yourself.
Subscribe to newsletter
Validation error occured. Please enter the fields and submit it again.
Thank You ! Your email has been delivered.