Design
Developing visions, discovering or inventing design worlds, and creating unique products with a new design and new functions – reliable, attractive, functional, with brand protection – above all differentiating: These are the paths KURZ and BURG DESIGN are exploring together with 'Visionary Design.' The first display of preliminary results in BURG DESIGN's new production hall in Steyr, Austria, was already impressive, featuring over 200 individual creations based on the 'gold reloaded' and 'concrete' design trends.
"Beauty is dependent on what is right, and what is right must be developed within the best possible aesthetic framework."Otl Aicher in 'The World as Design', 1991
The first impression is deceptive: It's not the construction site fencing that Michael Ucke and his team have set up in BURG DESIGN's as-yet unfinished production hall that's attracting all the attention, nor is it the gigantic concrete columns or the retro car entirely gilded with foil. The improvisational nature of it all is part of the concept that the designers use to focus the interest on their designs. It's clear that each individual exhibit is still a unique design, practically a one-of-a-kind. At this early stage, they haven't yet been developed for production. That begins only after an actual order has been received with specific requirements for the future product – for example, for the surface to be resistant to sunscreen. At that point, the hexagonal, experimental test vehicle now hanging on the fence will become a fascinating finished product for the customer.
And there's no doubt about it, because the over 200 workpieces exhibited reveal the whole spectrum of skills that KURZ and BURG DESIGN have to offer, ranging from the use of new, customized, special finishes from KURZ, to depth effects and structured surfaces, all the way to technical refinements. That's why Walter Kurz considers BURG and Visionary Design to be "a realignment of our design direction that enables us to offer completely new products with a totally new design – for example, with touch and backlit functions – in collaboration with other companies in our Group." For Friedrich Obermann, Managing Director of BURG DESIGN, a main motivation behind Visionary Design is the success of customers through the interplay between design expertise and innovative technologies: "In our collaboration with KURZ, we work together to develop new materials and use KURZ's innovative technologies to combine these materials in unique products – products that are simply better."
It's already clear from the initial design samples that Michael Ucke and his Visionary Design team are doing pioneering work – for BURG DESIGN and for the KURZ Group, but above all for their customers. The goal of Visionary Design is to think outside the proverbial box. In a sort of futuristic laboratory, the team tests, analyzes, and evaluates which trends are gaining influence in which markets – and how these trends can be implemented in groundbreaking designs. This cuts right across potential markets and the Group's existing production technologies. The designer considers this a win-win situation for customers: "Our mission is to open doors without knowing what's on the other side, and to open up new design and product worlds – including Group-wide. It's our way of optimally utilizing the creative expertise of the designers at BURG DESIGN and KURZ."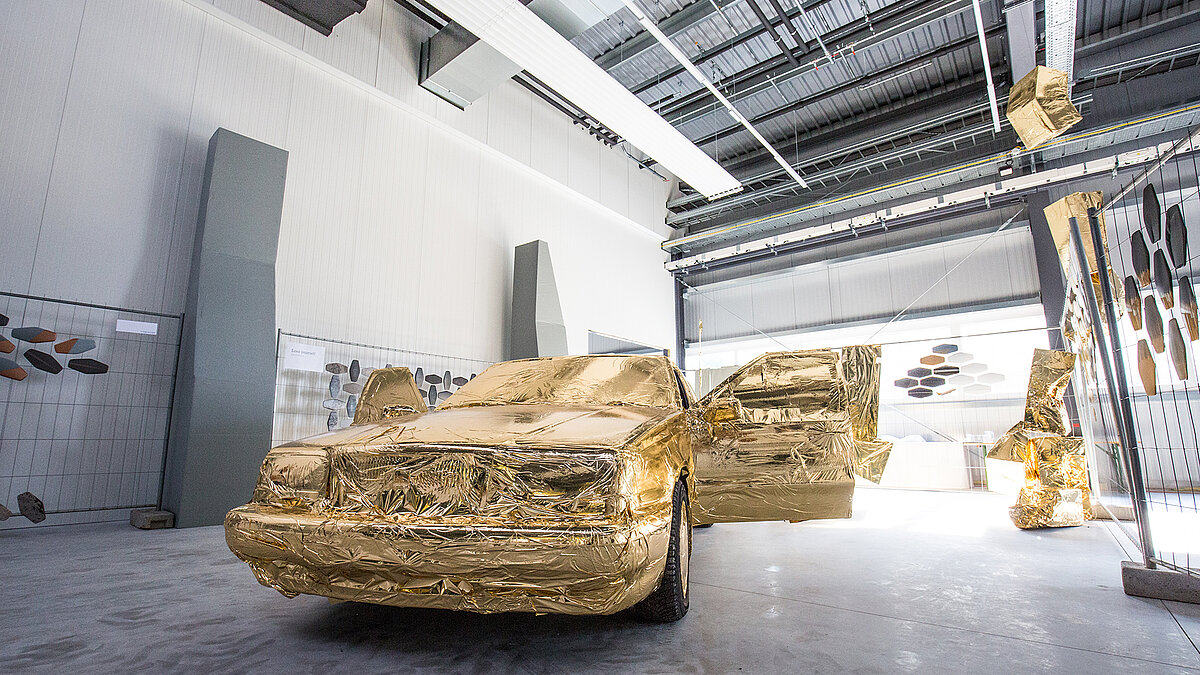 Futuristic laboratory with construction site fencing: experimental encounter with current and future design trends
After just one year, there's already a total of eight different topics on the Visionary Design team's agenda. Two of them – 'gold reloaded' and 'concrete' – have already been identified as up-and-coming design trends in both the automotive and furniture sectors. Naturally, 'gold reloaded' already has special significance due to KURZ's grand historical tradition of gold (leaf), but also because of trend forecasts and analyses in the fashion and furniture sectors. "Design must surprise," says team leader Michael Ucke, adding: "That's also the inspiration for our somewhat experimental staging in this unfinished hall. We're staging gold and concrete in an environment that has yet to reach its full potential. But today, we can already provide specific, sample products that show how the future might look. This makes us a valuable partner for industry. As a leading provider of design and product innovation, we enable our customers to gain a competitive edge in the market."
Playing around with vision, physical objects, and surface design in order to develop something totally new is especially inspiring for the designers. The special feel of the concrete surface – ranging from velvety to rough – was interpreted using special silkscreen technologies, where the stylistic encounter with the material clearly goes far beyond pure imitation. The 'gold reloaded' topic also plays with material properties and with different designs for front and back printing, and relies on new materials and finishes, structured surfaces, plus grid and depth effects.
Directly adjacent to one another, designs based on the 'gold reloaded' topic fascinate with their elegantly lustrous gradations, or progressions, from yellow gold to rose gold, and with stark contrasts between dark blue or even matte black and the radiant power of gold. Additional tension is created by the combination of glossy and matt areas, while tactilely perceptible gold elements lend the surfaces their own unique character, and elegant geometric patterns with and without backlighting create spatial depth.
"For me as a designer, it's extremely interesting to completely let go of everyday business and to focus on the trends," says Stefanie Heidl. She emphasizes her team's new opportunities for exploring the trends – for example, at exhibitions and interactions with international trend scouts – and integrating them into their own work. Inspiration and ideas often come from nature, with its interplay between light and shadow, the colors of light in the sky – or sometimes, her colleague Karin Salzmann adds, from completely ordinary things. "For example, we look at concrete every day in our offices. So, we photographed its surface, reproduced it by means of silkscreen techniques, and used clever front and back printing to implement it in a design with fascinating spatial depth effects."
Michael Ucke believes the market potential for 'gold reloaded' and 'concrete' is extremely promising, and not just in the traditional, automotive customer segment: "Why do washing machines always have to be white? A few daring souls occasionally make them red, or blue, or retro-green, but is that fresh or new? Maybe," he adds with a wink, "we'll soon be seeing a washing machine with the concrete design – that could be good."
Subscribe to newsletter
Validation error occured. Please enter the fields and submit it again.
Thank You ! Your email has been delivered.