Insights
Print finishing and sustainability: For Frank Denninghoff, Managing Director of GRÄFE Druckveredelung GmbH in Bielefeld, this is not a contradiction, but rather an incentive to really address all sustainability aspects within the finishing process and to implement what is possible with true passion. It's a strategic question – and a matter of one's own attitude. So it wasn't difficult to win him over as a pilot user of RECOSYS®.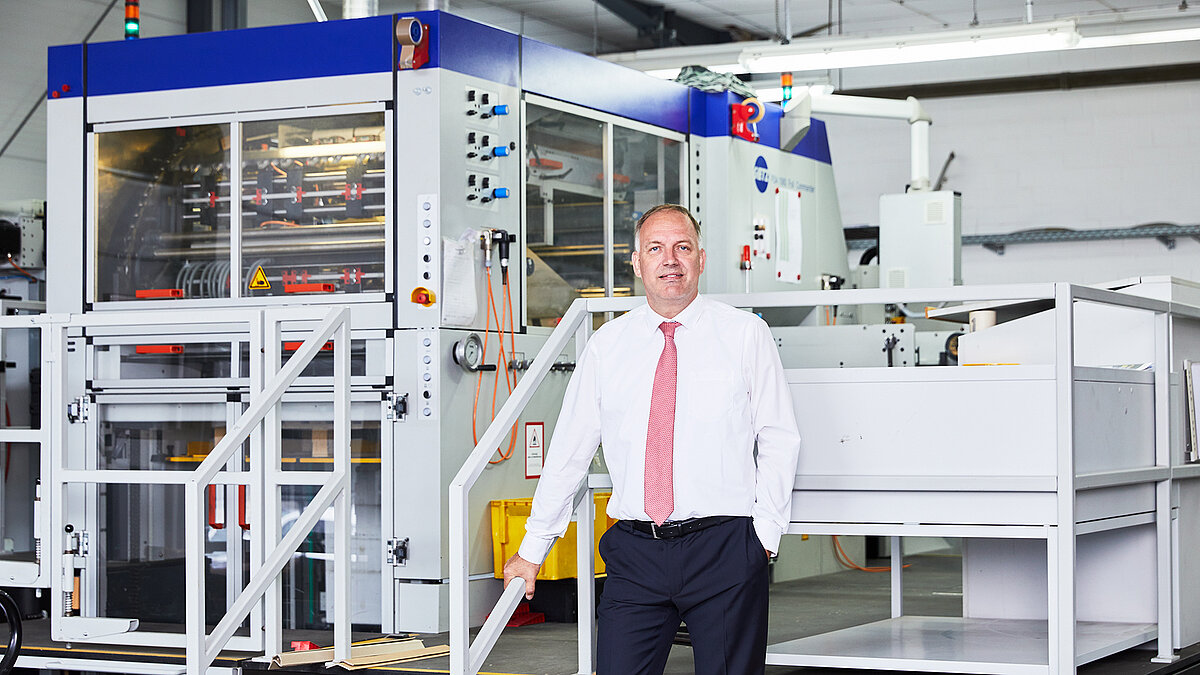 Frank Denninghoff, Managing Director of GRÄFE Druckveredelung GmbH
Orofin: Mr. Denninghoff, what do you like about RECOSYS?
Frank Denninghoff: I may have to go a little deeper here. In the printing industry, we have been very familiar with the idea of the circular economy for decades – and all the figures we hear in the current discussions clearly indicate that without sustainable business, we are risking our future – I'm talking specifically about climate change and the 1.5-degree target. And for us as a medium-sized company, the topic of the future is traditionally at the top of our agenda. When you know that finished print products – I'm only talking about hot stamping and cold transfer here – can be easily recycled due to the thin-film technology, then you start to ask yourself what can actually happen with the PET carrier material from which we transfer the finishing to the substrate. Then you discover that the material has so far often been thermally recycled as a high-energy substitute fuel or, in the worst case, ends up in the waste incineration or waste dump – although it could be collected, sorted and later be used as rPET in the production of new goods. In this respect, RECOSYS, as a true circular system, is exactly the right impetus here: KURZ's acceptance of stamped cold transfer foil returns is exactly what we need because it closes a circle that is currently open.
"The fact that KURZ, as a manufacturer, can take back the PET carriers and process them into a high-quality injection molding material is a remarkable achievement for me and a real statement for responsibility."

Frank Denninghoff, Managing Director of GRÄFE Druckveredelung GmbH
Orofin: In what way?
Frank Denninghoff: It's no coincidence that our slogan is "Sustainable finishing". Sustainability in print finishing has a lot to do with trust. Our customers need to see that we act responsibly here, that our work not only makes their products more attractive, better, more functional and so on, but that we do not change their properties during recycling. And that we ourselves recycle our material cleanly. "Acting as a role model" may be overstating it a little, but we are definitely leading the way in this regard. For a long time, for example, we had a "second currency" CO2 integrated into the former calculation system, which we were able to use to calculate the CO2 emissions of our finishing processes per order on request. This was determined more or less precisely together with Climate Partner Munich, because most stamping material manufacturers did not even have this on their radar. But we stuck with it and eventually we had the necessary information. And now, with RECOSYS, we can seamlessly demonstrate how the recycling of our production waste works – quite simply because we have the transparency at KURZ that the returned material is being recycled. We had been talking to KURZ about this topic for a long time, and I personally followed the development progress with keen interest from the initial tests to the quality standard established today. This is another reason why we were immediately ready to start as a pilot user and to support the program in practical testing.
"Why are we so committed? Somehow, we have always wanted to save the world."

Frank Denninghoff, Managing Director of GRÄFE Druckveredelung GmbH
Orofin: And what is the result?
Frank Denninghoff: So far, we have limited ourselves to the meter rolls, and smaller formats such as 10 cm rolls are now gradually being added. The effort for us is actually limited to just a few steps: When ordering materials, we need to specify whether we want RECOSYS so that the material is labeled accordingly. We then pay a little more when ordering to cover the recycling costs; we just need keep the material batches separate, to not mix them with conventional materials, because material recycling currently only works with special KURZ product families. In-house, out goal is to completely convert cold transfer to the new material, which will also make return process easier from an organizational standpoint. And we receive a certificate of the CO2 savings we achieve by recycling the material.
Orofin: Can you use this certificate for your customers or would you like more?
Frank Denninghoff: We certainly use this when advising our customers, firstly because there is increased demand for sustainability among our customers, and secondly because it clearly proves that we are taking action and not just talking. But let's take the idea a little further, because this topic also offers a great opportunity. By now, everyone is familiar with the "German Blue Angel" as a symbol of environmentally friendly products with recycled content. What I don't understand is why products with finishing or metalization cannot currently be awarded a Blue Angel label, even though recyclability has long been proven and our transfer finishes often also enhance recycled material without any negative effects. There is also a comprehensive European ecolabel, where the opportunities are probably better. As a small medium-sized company, however, we cannot push ahead with this. I believe the initiative lies more on the side of material manufacturers here – and KURZ, as a global market leader, has a completely different standing and resources.
Orofin: Why is a label like this important?
Frank Denninghoff: Because it advances the idea of sustainability in the markets and helps our customers to underline their sustainability efforts – with an internationally recognized logo rather than one of the many garden-variety logos where no one knows what they stand for, what they certify or who is behind them. Take the sustainability promises on fish packaging or inflated organic certifications. The consumer must be sure that the symbol really means something, otherwise the brand owner's credibility will suffer. And for us as finishers, a second point counts: We have to make it clear to our customers that sustainable finishing, like any other finishing, is also a question of overall design - and that has to be right. This is also part of credibility: If the basic idea that you want to convey, whether it is sustainability or something else, does not match the product or if the finishing does not convey the theme correctly, then it does not work. The finishing must contribute to a credible basic concept and not simply be a sideshow. And the earlier we get on board, the better we can advise. The traditional advantages of finishing, the metallic gloss, the feel, iridescent effects, the multisensory appeal, in particular, help to attract attention and increase relevance and effectiveness – if they are used consistently. This is why it is important to think about the finishing concept from the outset and not just to set it up afterwards, because there won't be much budget left.
"I believe that when you do something, I have to be able to understand as a person how it is ecologically correct. We won't do ourselves any favors with greenwashing!"

Frank Denninghoff, Managing Director of GRÄFE Druckveredelung GmbH
Orofin: And how do you see RECOSYS developing after the pilot phase has been completed?
Frank Denninghoff: So, the basic idea still inspires me just like on the first day. I see that it works well, without much effort and with adapted processes. However, I also see potential for significant expansion. We would like to recycle all cold transfer carriers, for example, but there are currently only a few varieties that are qualified for the program. I would like more offerings here as soon as possible and I know that KURZ is working on this. I think the RECOSYS idea is so good that I hope that we will soon be able to recycle our hot stamping waste as well. In our opinion, RECOSYS is not a "nice-to-have", but a clear "must-have"!
"In our view, RECOSYS is not a 'nice-to-have', but a clear 'must-have'."

Frank Denninghoff, Managing Director of GRÄFE Druckveredelung GmbH
Subscribe to newsletter
Validation error occured. Please enter the fields and submit it again.
Thank You ! Your email has been delivered.