Products
Now even city dwellers can enjoy private moments in nature: LEONHARD KURZ and the Munich based start-up GREENLING have combined their expertise in sustainability. Greenling brings the innovative KOBOLD mini garden to the market - and a sense of nature to the city.
'Be a green leader' - LEONHARD KURZ understands this to mean holistic solutions in terms of sustainability. Greenling has set itself the task of making life in cities greener and more natural. The collaboration between the two companies was a logical consequence in terms of sustainability. KOBOLD, the new, stylish mini garden for balconies, terraces, or interiors, comprises three pots and is made from the post-industrial recycling compound RECOPOUND®, which KURZ manufactures from PET transfer carrier residues from the graphic arts industry.
"Environmental protection is particularly important to us, and we want to make every aspect of our projects as sustainable as possible," explains Greenling founder and CEO Johanna Leisch. "This starts with the careful selection of our plants, which come from regional nurseries, and runs like a guiding thread through to the in-house production of our Greenling pots." The idea behind KOBOLD is to create a mini garden that continues Greenling's consistently sustainable path and is also made from recycled plastic for the first time. Johanna Leisch and Co-Managing Director Megan Douglas chose LEONHARD KURZ. KURZ was to accompany Greenling as a strong sustainability partner on the way to the next product generation.
KURZ stands for innovative strength with a view to the future, and the idea of sustainability is firmly anchored in the company's corporate philosophy. LEONHARD KURZ is the world's first company in the plastics industry to develop a take-back and recycling system for excess transfer materials, such as those used to decorate packaging: KURZ RECOSYS®. The resulting material, RECOPOUND®, is suitable for the production of robust products with stable mechanical properties, which can be manufactured via injection molding and individually finished. Thanks to the hot-stamping process, for example, unique designs can be created according to customer requirements after the production process. Another plus: Compared to new material, up to 40 percent of the CO2 is saved, and the recyclability of the recycled material is not affected by the decoration. "Our aim is to make our own products and technologies as sustainable as possible and to help our customers and partners create value in a more resource-saving and efficient way - true to the motto 'Be a green leader,'" summarizes Johannes Romming, Project Manager Innovation & Sustainability at LEONHARD KURZ. "We're also excited to be able to contribute to making the world a little greener by partnering with Greenling using RECOPOUND®."
Living in the city and tending to one's own (mini) garden doesn't have to be mutually exclusive - on the contrary: KOBOLD brings nature directly into the city, so that urban residents can also enjoy natural moments every day on their balcony, terrace, or living room - a sustainable, ecological, and resource-saving concept! "With RECOPOUND® we have now found the right solution. We're also pleased that we have the right partner at our side with LEONHARD KURZ," says Greenling CEO Johanna Leisch. The collaboration with the Munich-based start-up is also an enrichment for KURZ.
Greenling's designs are not only eye-catching but also impress with functional elements. An integrated irrigation system protects the plants from drying out or waterlogging, and the three inner pots are stocked with regionally and sustainably grown plants from local nurseries. Customers can combine their own plants as they please, and the green oasis will be delivered to their homes already planted. Of course, the recyclable, frost-proof, UV-resistant RECOPOUND® plant pot can be removed and redesigned over and over again. The innovative KOBOLD mini garden for three plants from particularly sustainable production was launched onto the market in March 2023 and can be ordered at www.greenling.de. Thanks to its dimensions of 500 x 500 x 200 mm, the garden is also suitable for small indoor or outdoor spaces.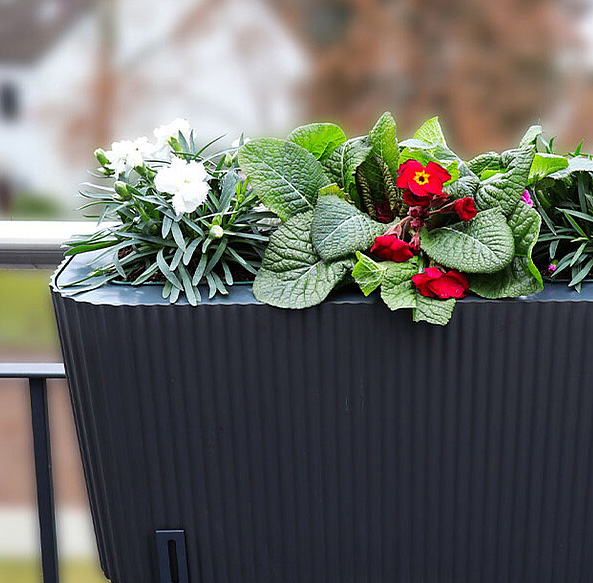 Beautiful to look at, easy to use, good for the environment and nature: The KOBOLD mini garden that delights humans and insects alike.
Both start-ups and established companies that appear on the market with uncompromising ecological credibility can benefit significantly from an industrial partnership with LEONHARD KURZ. KURZ's pioneering work for the development and usability of the post-industrial recycling compound RECOPOUND® is the best example of this. Further inspiration and information on RECOPOUND®, RECOSYS®, sustainability, and Lifecycle Thinking can be found at plastic-decoration: RECOPOUND®.
Subscribe to newsletter
Validation error occured. Please enter the fields and submit it again.
Thank You ! Your email has been delivered.