An olive oil bottle: at first glance, no big deal and, above all, practical. Created for storing, transporting, and protecting the contents from external influences.
Of course, no olive oil container can replace a sensory, gustatory, and olfactory experience. But it can - in the best case scenario - provide all of these sensations in advance because they can be translated into the packaging design.
So, what is such a project actually about? It is about creating a sensuality and emotionality that immediately makes the buyer understand the premium quality of the product. You want to get the customer dreaming of how, for example, they soak up the precious golden olive oil with a piece of bread to enjoy it. The goal is to stimulate appetite. Awaken desire. Appeal to all the senses and spark people's imagination. All of this is what characterizes a successful design.
A few drops of olive oil are depicted on the finished bottle. TRUSTSEAL® SFX technology creates a three-dimensional effect that makes these drops appear tangible. You want to touch them and catch them along the curvature of the bottle. The self-adhesive paper label is a blend of printing technology and excellent materials. This also makes touching the bottle an experience - a tactile experience.
Varvaglione is one of the oldest vineyards in southern Italy and has won many awards for its wines. The philosophy of the Varvaglione winegrower family is to put everything Puglia stands for into a wine bottle. But Apulia - or Puglia, as the locals call it - is also known for its variety of olive trees. They make up a quarter of the area - making Puglia inconceivable without olives and the oil extracted from them. The olive tree is at the center of the region's coat of arms and thus shows the importance of these natural products. Reason enough that Varvaglione is also committed to the production of high-quality olive oils, which are produced in elaborate processes, always with the aim of capturing the natural taste of the olives, and to do so in the best possible quality. It's all about capturing the essence of the country.
In 2021, the company celebrated its 100th anniversary and took this occasion as an opportunity to gift special customers (and itself) a limited edition of its oil. It was important to Varvaglione to make the product look appealing and sophisticated. For the buyer, it is not only the special taste that counts, but the packaging must also be of high quality. A sure job for our Italian colleagues from LUXORO! LUXORO was able to support the olive oil producer in the label design for its special edition of the elegant "Evo Olive Oil" blend.
How should a product work on the shelf? An important question, which is of course essential in retail and one of the major aspects to consider. And, of course, sustainability has been a decisive factor for some time now. At KURZ, it has long been part of the process and value chain. Sustainability aspects were also taken into account here: the paper substrates can be composted in combination with hot stamping.
What about on regular supermarket shelves? There, the TRUSTSEAL SFX principle works even better because it breaks familiar standards. The packaging creates a wow effect; it surprises and amazes people. You start to wonders what is happening before your very eyes. KURZ has already achieved this with TRUSTSEAL® technology for several other products. Just think of the exclusive special label for a particular wine, which was also developed by the Italian KURZ representative. The bottle is wrapped in the symbol of a stylised, wind-filled, golden sail inspired by the creations of LUXORO founder Vladimir Kokrhanek. On the occasion of the company's 50th anniversary, a special story is told in the form of this tactile and visually incredibly impressive label.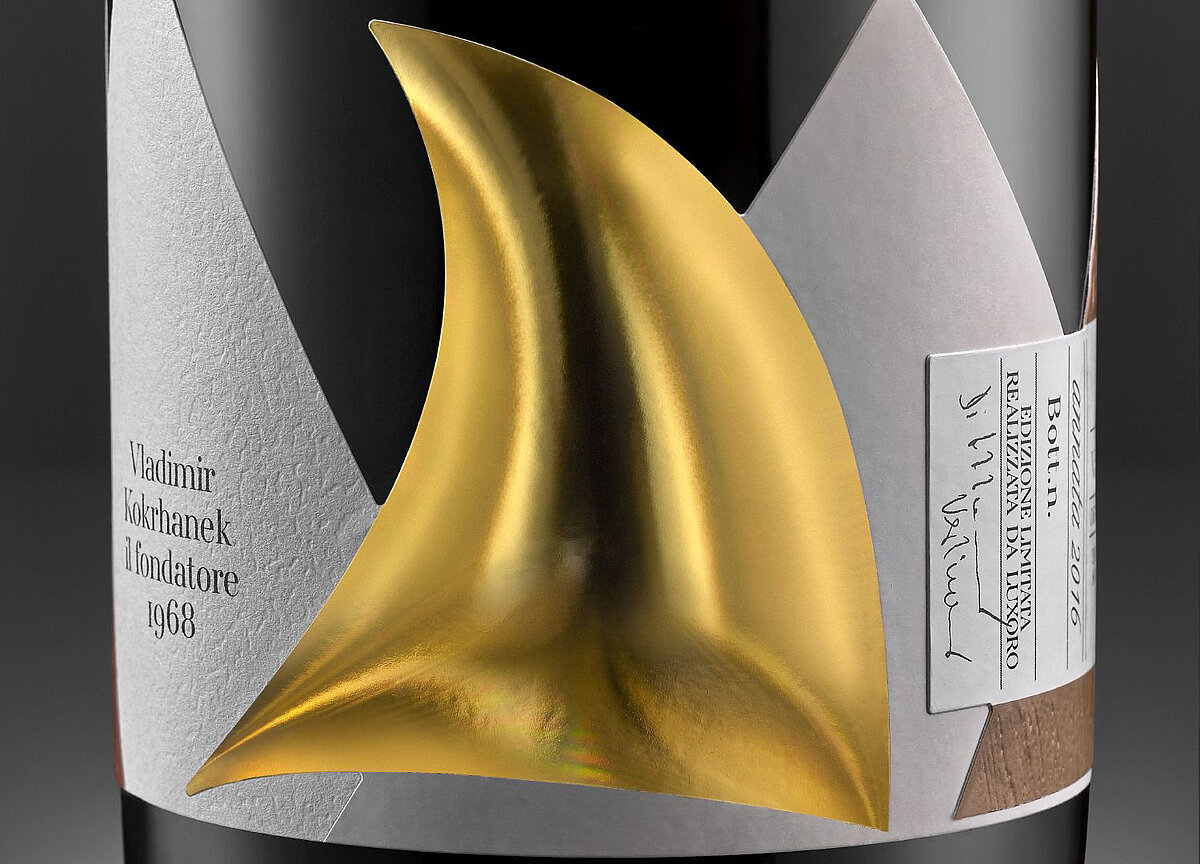 The hot-stamped 3D hologram effects create a special look and feel. What's more, the gold variation gives the label an elegant and luminous appearance.
KURZ subsidiary H+M supplies the right embossing tool for blind embossing. This turns the bottle of olive oil into a refined, brilliant product that invites people to buy it.
Excellence and competence: materials, products, processes, various possible applications - this is what customers should be able to expect from KURZ anyway. That's a given. What counts more today than ever is the famous "extra mile." How can that be topped? Where else is a potentially hidden sensation? KURZ impress people with their performance - naturally. But enthusiasm emerges where people are won over by surprising elements. We help make your day-to-day business more than just an everyday routine. There's still room for improvement. And in particular, room to move upward.
Subscribe to newsletter
Validation error occured. Please enter the fields and submit it again.
Thank You ! Your email has been delivered.