Insights
No, the main LEONHARD KURZ plant in Fürth in Middle Franconia does not exactly look like a revolutionary center. Neither does our interview partner Stéphane Royère, Head of International Product Management and Head of the Industrial Business Area at KURZ, look like an archetypal revolutionary leader, with his friendly face and impeccably fitting suit. But KURZ actually called for a 'label rebellion' at Labelexpo Europe in Brussels. Completely officially, so to speak. We wanted to find out more. Let's look back on the leading trade fair for label production.
"We cannot thank you enough for the interest that we have experienced at Labelexpo Europe," says Stéphane Royère. That certainly doesn't sound like a rebellious slogan. So what happened in Brussels? After all, at the end of September 2019, the company came to the world's largest event in the label industry with the slogan 'Join the label rebellion'.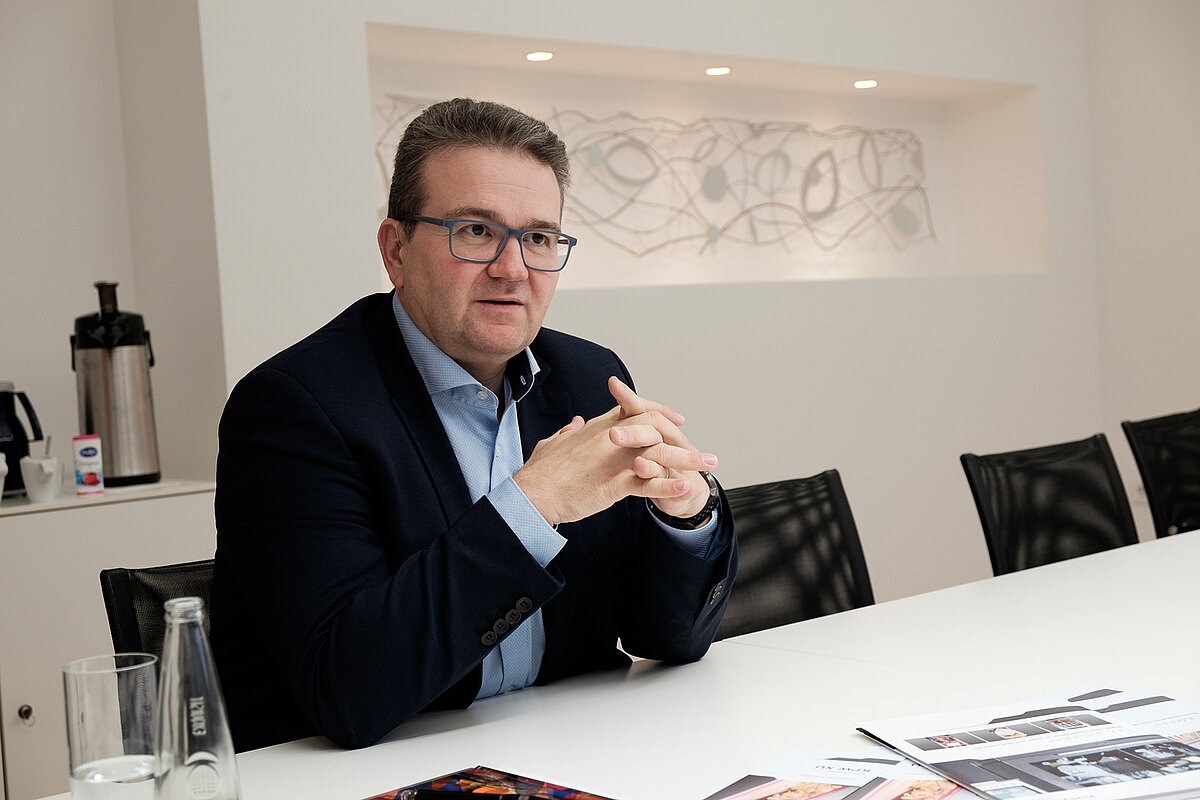 Stéphane Royère, Head of International Product Management and Head of the Industrial Business Area at KURZ
Stéphane Royère's words of thanks quickly make clear that KURZ's 'label rebellion' does not at all refer to typical revolutionary upheaval with burning barricades and rolling heads. And yet the Head of International Product Management and Head of the Industrial Business Area leaves no doubt that the focus of the company's trade fair slogan is a classically revolutionary idea. Specifically, the idea of inviting interested parties and prospective customers as well as partner companies to embark on a courageous new path together with KURZ.
What's in store on this path? Empowerment, if we want to assign a contemporary buzzword to the label revolution. In other words, a concept that has a lot to do with the attitude that today prevails in collaborative work and co-creation. It's about breaking up rigid structures or thinking beyond your own silos and boundaries. That's definitely necessary because if we look at the label market, we see how strongly the pressure on brand owners and processors has been growing for years. Refinement is expected to become ever faster, cheaper, and more flexible. And at the same time increasingly spectacular, safer, and more unique – of course. After all, a brand's uniqueness precedes its desirability. Last but not least, sustainability plays an increasingly important role – and that's a good thing. Here's what KURZ learned: Many players in the industry have already understood this development. There are many excellent but often singular solutions out there. So far, there has been a lack of comprehensive impulses and concepts for a holistic path to a long-term, secure label future. Sometimes promising approaches simply lack the decisive momentum to get going. Although environmental issues such as packaging and labels without plastic film, extremely thin aluminum layers, fully deinkable and recyclable packaging, or even global standards that go beyond legal requirements are on everyone's lips, they're simply not on enough agendas.
KURZ wasn't, and still isn't, ready to accept this. "We are active in so many areas, we know the value chains as well as the requirements of the markets. The aim of our label rebellion is to get people to take off their blinkers and to give them real orientation," explains Stéphane Royère. So despite the lack of rolling heads, the 'label rebellion' critically evaluates obsolete systems and reinvents them.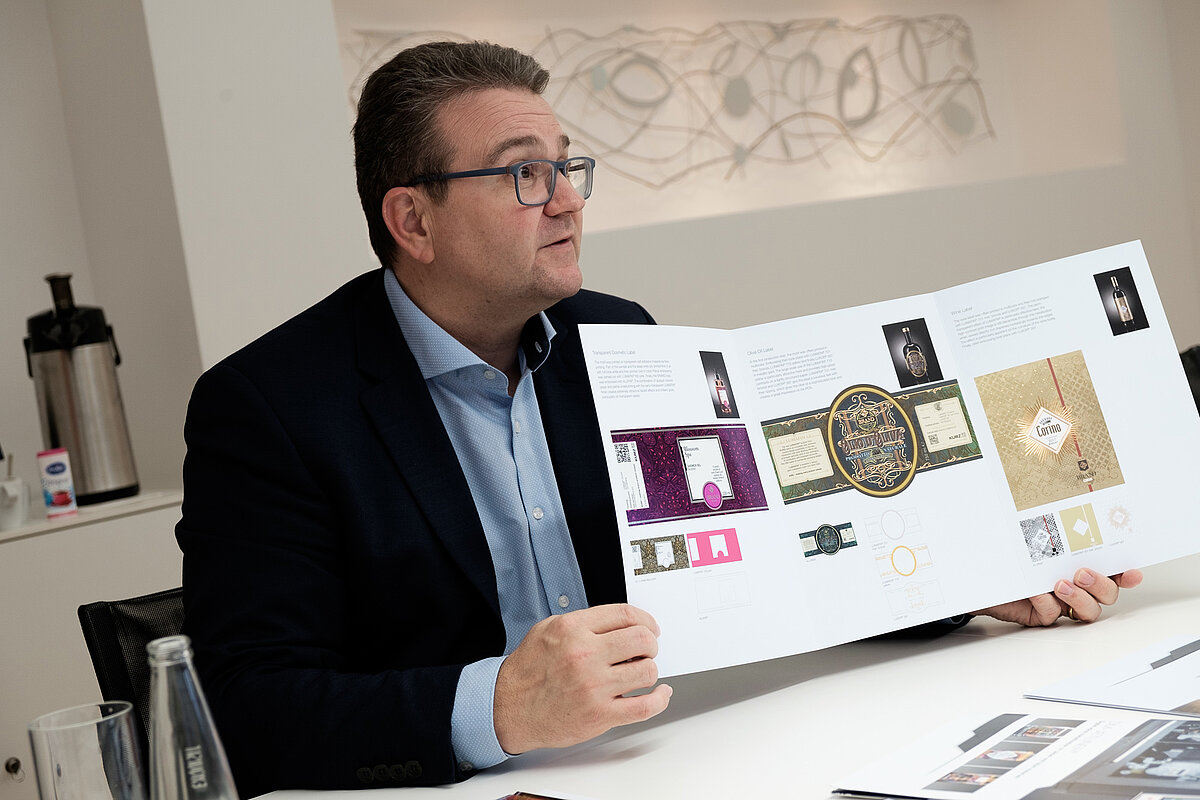 Sustainability is also being discussed more and more in the label printing segment. For instance, at Labelexpo Europe. What Stéphane Royère and many of his colleagues have noticed for a long time is the increasing number of direct inquiries: "Customers are becoming more critical and we are often asked how recyclable our transfer products are." KURZ has been proactively engaging in dialogue with this approach for some time now, including at the trade fair in Brussels. What many interview partners don't know and what pleasantly surprises them is that the sustainability aspect of packaging and labels, a current hot topic in society, has been a matter of course for KURZ for decades, as evident in the introduction of a proprietary certified environmental management system and the consistent pursuit of the aim to become recyclable along the entire value chain. The fact that this represents a development that is in no way already completed, still requires a lot of joint efforts and, above all, must be made known, is also part of the concept of the 'label rebellion'.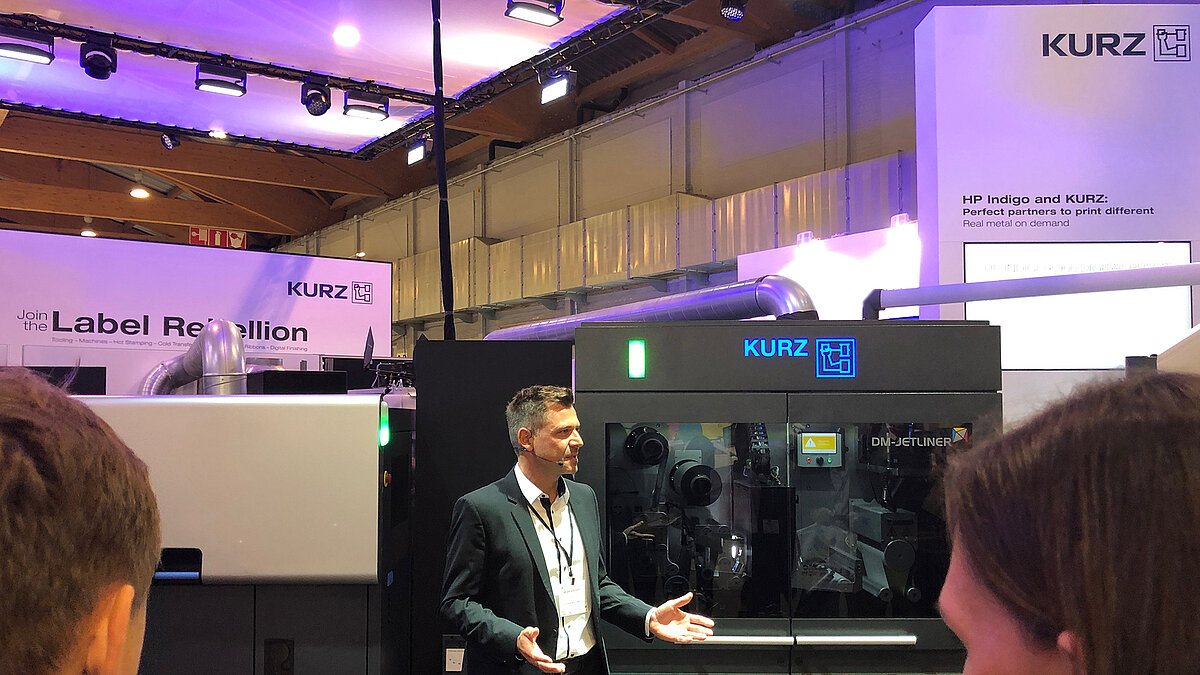 DM-Jetliner® – the next dimension of digital printing as a complete solution from a single source
With this in mind, KURZ had set the main focus of its trade fair appearance in Brussels – with a product portfolio that becomes appealing wherever interested parties and customers formulate higher demands, and want more beautiful finishing, more suitable solutions, and better care. For example, KURZ presented the groundbreaking DM-Jetliner®-system as a digital finishing option in an HP Indigo 6900 and the already revolutionary DIGITAL METAL®. Also demonstrated was the semi-transparent innovation LUMAFIN®, with which completely new depth or patina effects can be realized. What's more, the KPW XU cold foil transfer coating was also shown at the booth – a product innovation that shows excellent results, especially when overprinting. Finally, KURZ presented TTR Unique VEROSPEC® – a security solution to protect against counterfeiting and piracy.
So did the revolution work? Stéphane Royère responds with a contented nod. After all, the challenges in the markets are not diminishing. At KURZ, you can feel that the vision of making products and brands even more unique is popular and even sought after. The area of finishing in digital printing alone will probably grow by up to seven percent in the next three years. Brands are demanding more and more uniqueness; the trend towards individualization continues. Appropriate answers are needed – and KURZ already has them today.
Subscribe to newsletter
Validation error occured. Please enter the fields and submit it again.
Thank You ! Your email has been delivered.