Products
Full steam ahead toward a true circular economy – that is the goal that we have set ourselves as a company – and that we have taken one step closer to with the development of our return and recycling system for PET carrier foils. Because at LEONHARD KURZ we do everything we can to offer innovations like RECOSYS® 2.0, which pave the way to a fully sustainable future in the packaging and finishing industry.
In the face of global warming and ongoing climate debates in politics and society, many companies are taking up the cause of sustainable business. However, these are often just clever PR or marketing stunts that are nothing more than deceptive greenwashing that lead people to believe they are sustainable and environment-friendly. LEONHARD KURZ is strongly opposed to such behavior and has set itself the goal of bringing the packaging and finishing industry closer to a true circular economy.

The first major step in this direction was the introduction of RECOSYS®, the world's first return and recycling system for PET carrier foils which are used in the graphics industry. The resulting post-industrial compound RECOPOUND® already reduces up to 40 percent CO2 when compared to new material. "Sustainability is our top priority and a key theme in all our projects, processes and operations: From our materials and manufacturing processes, our dry decoration process, the fact that no PET remains on the end product, to the return and recycling of leftover transfer materials," explains Rolf Schmidtke, RECOSYS® 2.0 Project Leader at LEONHARD KURZ. "We need to provide our customers and the finishing industry with a sustainable solution for the use of leftover PET material! We must all breathe new life into this PET and do something useful with it."
After years of development, RECOSYS® 2.0 now not only allows even more types of transfer carriers to be recycled, but also increases the range of possible uses for the recycled material. With RECOSYS® 2.0, production leftovers can now be turned into recycled PET ('rPET') for the very first time. The wide range of uses for the valuable raw material rPET includes various products that are part of everyday life. The production of rPET as the next logical step means we are again a great deal closer to a circular economy.
Parallel to the RECOSYS® process, we have also been able to reduce the carrier material thickness from 12µm to an ultrathin 6µm in order to avoid large volumes of leftover PET material. The advantages of this reduction are clear: Less resource input, a significantly decreased carbon footprint, lower waste and disposal costs, more running meters on each roll and, therefore, reduced set-up times.
Many KURZ products can already be recycled using RECOSYS® 2.0 – and the number continues to rise! "We are currently the only manufacturer in the industry to transform our ultrathin transfer decoration from scraps into valuable raw materials. Our long-term goal is to recycle absolutely all of our products and use them to produce carrier materials for new decorations." According to Rolf Schmidtke, this is how KURZ will achieve "a completely circular economy in which leftover PET material no longer needs to be disposed of in a climate-harmful manner."
The initial feedback from our customers on RECOSYS® 2.0 has already been thoroughly positive. The industry seems to sense how important the issue is to KURZ and recognizes the many benefits of the system: Using RECOSYS® 2.0 and rPET, CO2 emissions can be reduced by up to 40 percent and Scope 3 emissions from the finishing process by up to 90 percent. All customers participating in RECOSYS® receive a recycling certificate from an independent environmental auditing organization. This gives them a verifiably optimized sustainability balance and a clear competitive advantage, which also greatly benefits our environment.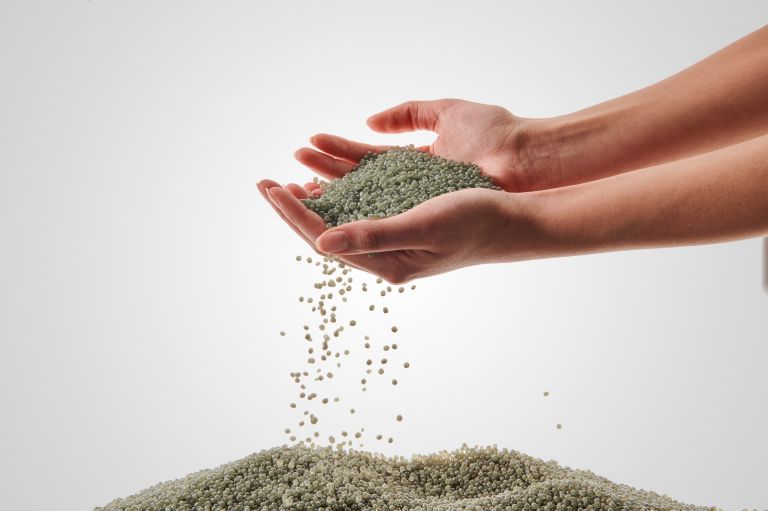 rPET granules
Subscribe to newsletter
Validation error occured. Please enter the fields and submit it again.
Thank You ! Your email has been delivered.