Industries
Print, passion, and perfection: KURZ has always set new standards with innovative ideas and top quality. In particular, the company's portfolio includes decorations and coatings for a wide range of industries. What many people don't know is that KURZ also develops its own digital printing machines (including web-fed and sheet-fed applications) and highlight products manufactured by its subsidiaries Steinemann DPE and MPRINT. KURZ is currently completely repositioning itself in the digital finishing segment. That's a real challenge which makes it clear what sets KURZ apart: Absolute passion for the product, commitment to perfection, and unwavering focus on the customer—including smooth machine installation and maintenance. Customers all over the world are impressed by this attitude: Our success story shows how digital finishing machines from KURZ give companies a real competitive advantage.
Digital printing has changed the industry forever. KURZ is not only embracing this change but doing so with passion and playing a leading role in shaping it. To this end, has set up its own task force, which is restructuring the area of digital finishing for digital printing. Jordi Giralt plays a central role in this process. His official job title is "Global Business Development Manager Digital Embellishment Solutions"—he sees his role as sales manager, engineer, and strategist all rolled into one. Giralt and his team of experts (consisting of sales reps, technicians, and product designers) are developing the products of the future for KURZ. The aim is to advance KURZ customers around the world with know-how, passion, and innovations."This is much more than just selling concepts: we need to understand the different markets, technologies, and customers, and share lessons learned with the respective departments in a customer-driven manner," says Giralt. "For example, everything we develop at Steinemann DPE is a mix of know-how, reputation, and legacy of more than 50 years of collaboration—combined with the latest developments from the industry in order to be able to offer state-of-the-art solutions with attention to detail. As always!" Jordi Giralt benefits from his many years of experience in large corporations, where he was responsible for a wide variety of areas in the product cycle, from design and technology to sales. Among other things, he established valuable relationships in the industry at HP (as Business Manager for the folding carton segment in EMEA) and Heidelberger Druckmaschinen AG (as Director of Strategic Accounts and Global Head of Sales): "Passion is everything. Only through direct people-to-person interaction with companies, service providers, and partners can we find out what the industry really needs—and how we can improve together with our customers. From optimizing the current portfolio to innovative product designs and developing new technologies—it is a never-ending process of constant innovation work.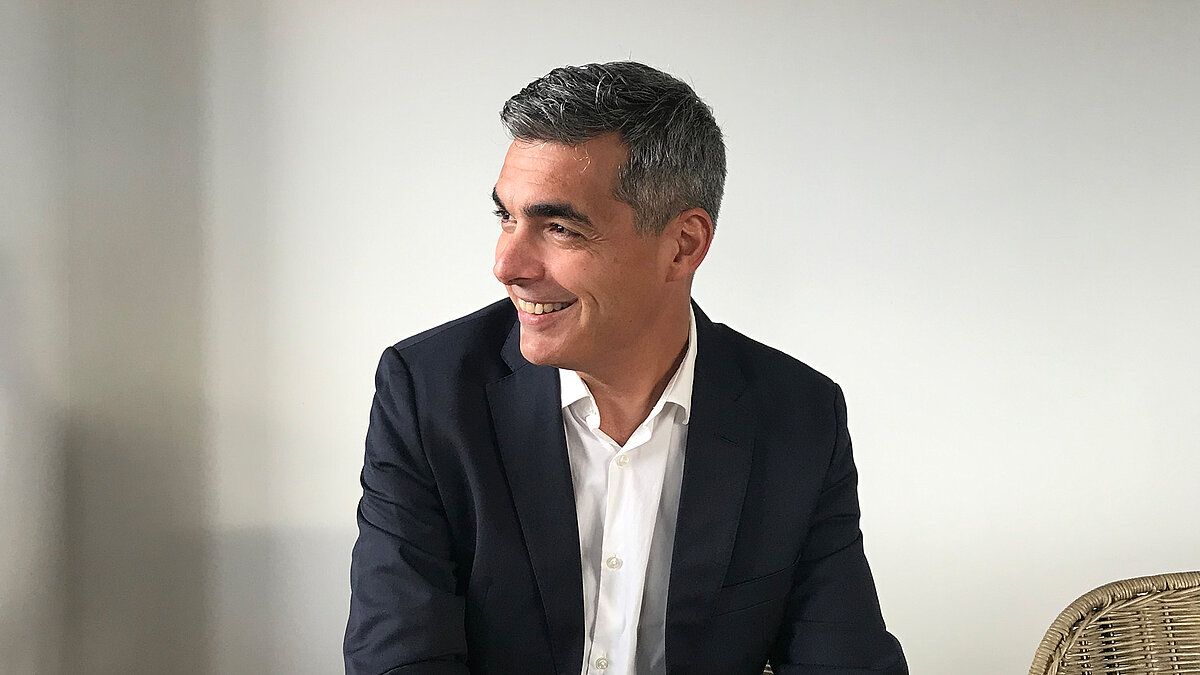 Jordi Giralt and his team are rebuilding digital printing from the ground up at KURZ.
Global Business Development Manager Digital Embellishment Solutions
Even as a child, Giralt gained initial experience in the printing industry through his family's own company with a focus on offset and long-grain flexo printing machines. Numerous roles around the world allowed him to gathered expertise and make contacts in all areas—from sales through design to technologies. His journey eventually led him from Barcelona to KURZ in Fürth in 2020. There, he is responsible for the development of innovative digital printing solutions for the global market.
KURZ is the only company in digital printing that has such a long success story to draw from in labels, carrier materials, and cardboard packaging. For years, the printing industry has been increasingly shifting to digital. Due to the pandemic, this development has accelerated even further. New providers of web-to-print and web-to-label solutions are entering the market. And subjects such as "digital finishing" create new customer needs with respect to finishing in all print segments.
Jordi Giralt and his team ensure that KURZ picks up on such trends at an early stage and implements them in the form of innovative products and solutions. KURZ already stands out from the crowd in digital printing today: "We offer customers a higher digital print quality than other providers. Top results with maximum efficiency—that's what sets us apart," explains Giralt. The high flexibility and enormous versatility in digital printing benefit sectors with smaller print runs—such as in the wine industry. Digitally printed labels mean high-quality bottle labels can also be created in small quantities. With its own digital printing machines—such as the DM-JETLINER—KURZ offers the ideal solution here, which fits perfectly into its customers' technical infrastructure and processes. Thanks to the DM JETLINER, the French label printing startup Lucas Etiquettes can offer its clients exceptional finishes and printing effects for labels and bottle caps—a real competitive advantage for the growing company. The DM-MAXLINER 3D helped create further success stories for commercial printing firms, packaging companies, and even web-to-print portals. The machine demonstrated enormous flexibility and performed extremely well, meeting the highest demands of various industries.
Man and machine in perfect interaction: the KURZ customer service teams are perfectly equipped to be able to optimally support customers in every situation. KURZ has met the highest standards in the automotive industry for many years. This top level is also the benchmark when working with label customers—or, as Jordi Giralt says: "We deliver the highest quality with the highest efficiency."
One of the companies benefiting from this enormously customer-driven attitude is Labelisten: the world's first DM-UNILINER was installed here and seamlessly integrated into live operations. Susanna Steinberg, Media Designer at Labelisten, reports: "As a graphic designer, I can fully focus on the design and print file and try different styles. The machine does everything perfectly and is easy to operate—without any lengthy training."
Meeting this high standard in terms of customer satisfaction on a daily basis is not that easy under pandemic conditions. But KURZ finds innovative solutions here as well. On behalf of its US-based customer Label Specialties, KURZ installed another DM-JETLINER in an Indigo machine completely via remote support. This is a process that the KURZ team has successfully mastered several times. The recipe for successful machine installation: An app for smartphones and tablets has been developed for optimal remote maintenance and support. This allows customers to be guided step by step. For the DM-JETLINER and DM-UNILINER, this tool was integrated into the machine with a camera and a headset, thus offering all customers immediate KURZ remote support—directly from the machine.
KURZ went even further in the case of Label Specialties: an expert team communicated with customers in the US via webcam and showed live what had to be done. However, transferring the same successful principle to all markets will be a real challenge. In countries like China and Japan, the language barrier is often a major obstacle. Jordi Giralt is already working on a solution for this: "Wherever we grow in new markets, we will also build up local teams. As good as remote maintenance is, we cannot and do not want to replace real, personal customer contact going forward." During lockdown, he himself missed the direct exchange with partners, service providers, and customers. "I learn the most about what really matters to our partners in face-to-face conversations."
Even though the finishing business may look monotonous to outsiders, digital methods have opened up unprecedented possibilities: "Combining our expertise and innovative digital technologies with great products creates inspiring solutions for the industry." Jordi Giralt and his team are driven by this passion on a daily basis. It's no surprise then that he considers KURZ completely on track—in a sector that has been rebuilt from scratch: "The best results in digital printing are achieved with KURZ. We combine the premium quality known from conventional methods with the efficiency of digital printing. With this recipe for success, we can permanently offer our customers top services—and become one of the most important brands for digital finishing." Although KURZ has already sold large quantities, it is hardly known in some markets that the company also offers machines. But with partners as satisfied as Labelisten, Lucas Etiquettes, and Label Specialties, it is probably only a matter of time before the expanded KURZ portfolio is on everyone's lips in the industry—and before further success stories are written.
Subscribe to newsletter
Validation error occured. Please enter the fields and submit it again.
Thank You ! Your email has been delivered.