Design
The world of packaging design is in constant flux: Some trends come and go, while others persist for years and even evolve. That is why LEONHARD KURZ is present in the design scene worldwide and pushes collaboration in order to always be up-to-date and able to offer its customers the best possible advice. Read more about our collaboration with the Pentawards 2023 here.
Designers often have a precise idea of the way their design should communicate. At KURZ, we support them with advice on color selection and effects, how they work on different textured substrates, and which finishing technologies are best suited. Our goal is to provide our customers with the best possible support along the entire creation process, and to assist them with inspiration, ideas, and technical expertise.
It is through collaborations such as those with the Pentawards and creative projects like Make a Mark, as well as our 'boxes' packaging series, that rich synergy effects are created which help us expand our knowledge around design topics. Our customers are the main beneficiaries of our expanded knowledge base.
KURZ has made a name for itself in the design scene over the years. We have now become the main sponsor for the Pentawards Gala 2023 for the first time, and our design management team was responsible for the design of three trophy rooms. These trophy rooms were spacious photo booths in which the winners were photographed during the award ceremony. They were able to choose between the Golden Mirror, Holographic Fun, and Colorful Play rooms as photo backdrops. As the Trophy Rooms were a central component of the award ceremony, KURZ was able to set the scene and present its products in a playful way.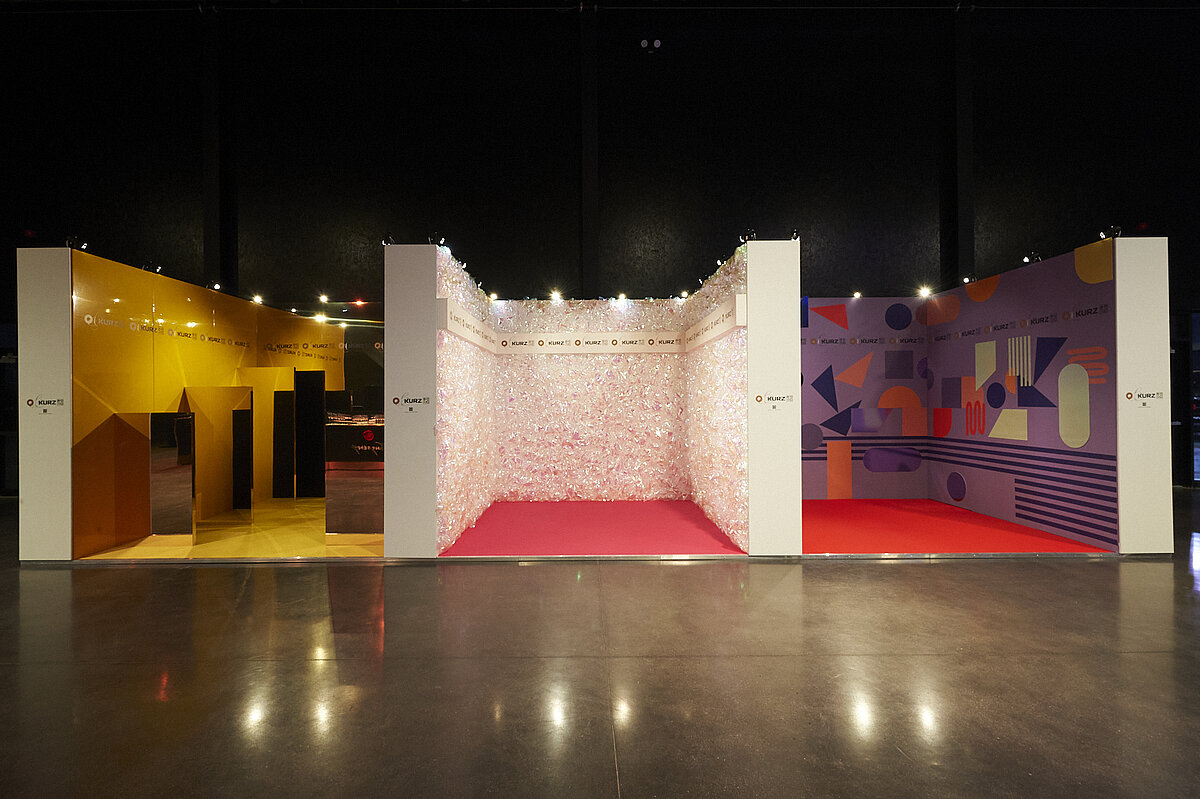 The three KURZ Trophy Rooms Golden Mirror, Holographic Fun, and Colorful Play
This year's Pentawards took place in London on November 9 and 10. They were first held in Brussels in 2007. Since then, this design award has established itself as one of the most well-known and renowned in the world. The Pentawards packaging design competition takes place once a year and is open to design agencies, freelance designers, communication and advertising agencies, packaging manufacturers, and students. More than 30,000 packaging designs from over 95 countries have been submitted over the last 16 years.
Some of the innovative design projects created as part of Make a Mark in cooperation with Avery Dennison, ESTAL, and KURZ were also nominated for an award this year. Make a Mark was also an exhibitor in the Workshop Area this year. There, visitors were able to create their own labels as part of the Pentawards design festival.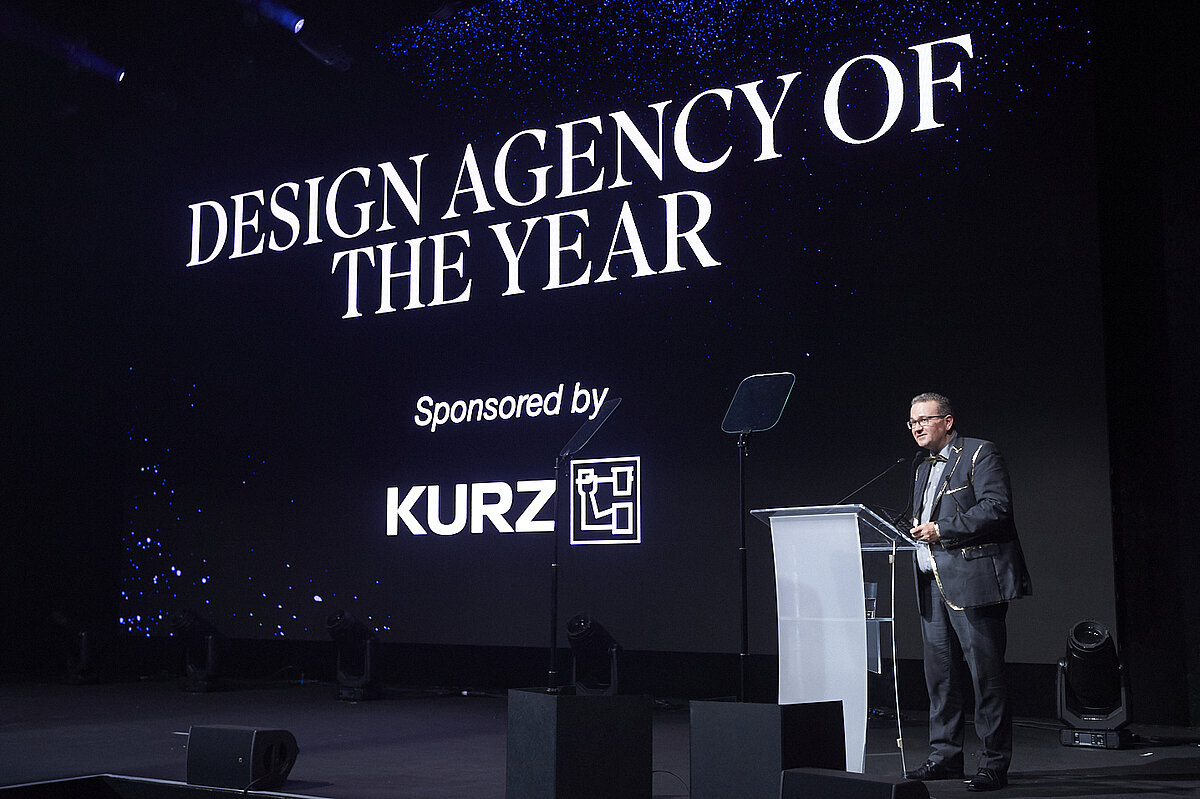 Stéphane Royère (Head of Business Area Packaging and Print) at the Pentawards 2023
Product packaging plays a crucial role at the POS. You need to convey an all-round strong message and attract attention to stand out from a crowd of similar products. Every year, the Design Management Packaging and Print team at KURZ extracts current topics from a wealth of effects, colors and shapes as well as design trends. Currently, two opposing flows can be identified: On the one hand, dazzling eye-catchers are achieved through high-gloss motifs as well as impressive metallic and three-dimensional effects. At the same time, however, minimalist, simple packaging designs are experiencing a rapid upturn. The demand for sustainable packaging design is increasing, which is why the second trend, in particular, is in keeping with the times.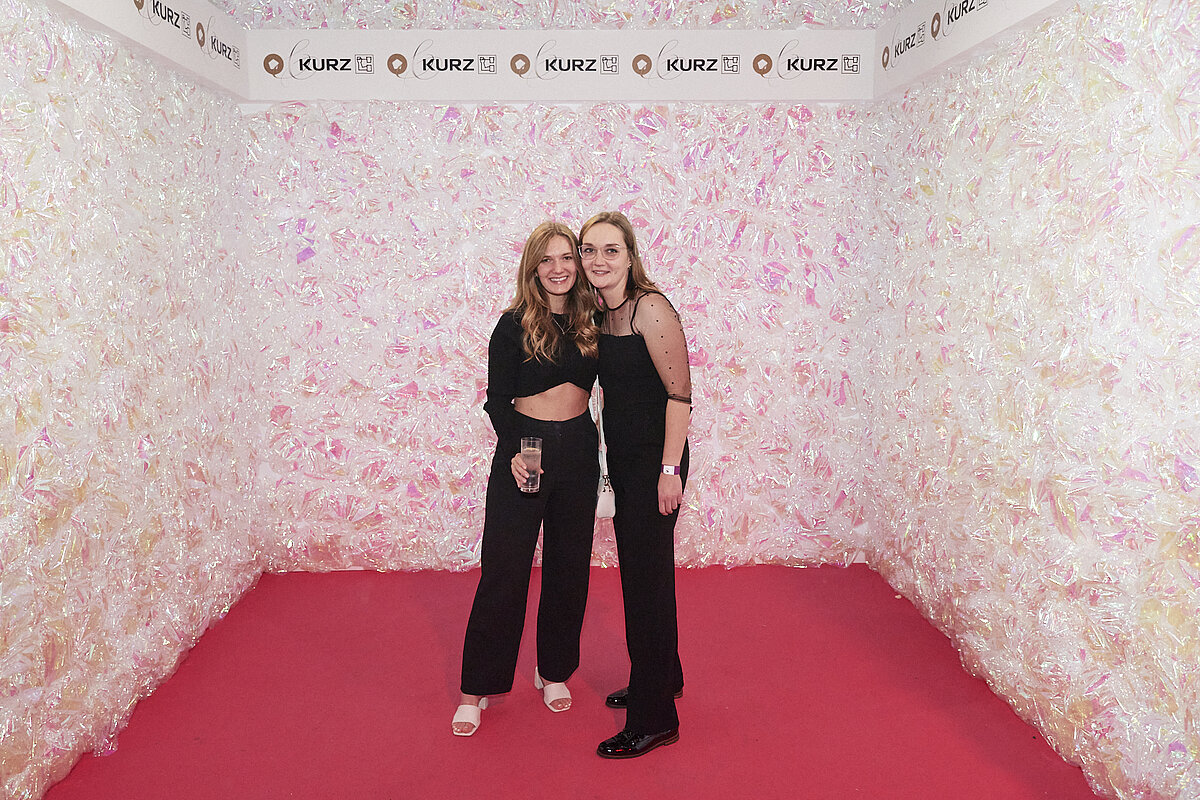 Julia Meier (Marketing Manager Packaging and Print) and Julia König (Senior Designer) in the Trophy Room Holographic Fun
As a finishing expert, sustainability has always played an important role at KURZ. True to the motto 'Be a green leader', KURZ has always researched and developed sustainable finishing solutions and environmentally friendly manufacturing processes. In the hot stamping area, for example, we have been able to reduce the transfer substrate thickness from 12 µm to 10 µm, and in cold transfer we have achieved a reduction to 6 µm. Our finishings have no impact on the recyclability of packaging, as no PET remains on the finished product. What's more, our decors are ultra-thin, thinner than a human hair, making the decorating process for printed products more environmentally friendly.
We are also the first and only manufacturer in the industry to have developed a recycling system for used PET carriers. Our RECOSYS® 2.0 program makes it possible to produce a new recyclable material, rPET, from residual material.

In the future, KURZ will continue to enter into collaborations such as the one with Pentawards to strengthen its position as an innovative provider of comprehensive design consulting, high-quality surface solutions, and sustainable and efficient finishing technologies. We want to offer our customers the best possible options on the market. Through continuous development, we create a fertile foundation for high customer satisfaction as well as a strong and especially sustainable basis for the future of packaging design.
Further information on our packaging expertise can be found at kurz-graphics.com.

Subscribe to newsletter
Validation error occured. Please enter the fields and submit it again.
Thank You ! Your email has been delivered.