Design
Society meets design. For seven years now, KURZ has been inspiring product developers, creatives, and design agencies from all over the world with innovative packaging concepts. The trends they weave are the essence of the intensive pursuit of the Zeitgeist and experiences gleaned at design events. For the latest edition, KURZ designers Annie Kuschel and Julia König have compiled the most intriguing trends of our time and translated them into exciting, creative designs. The enhanced "Box next to Box 2. two" turns trends into concrete concept and color samples, ideal for demonstrating to and inspiring the world of design. Experts Kuschel and König give us a behind-the-scenes look at the brand-new design box and lift the lid on the current trends.
New designs for a better world. The "Box next to Box. two" packaging concept uses expressively decorated paper boxes to put a face on four globally trending themes. For this purpose, KURZ has developed new colors and designs for its hot-stamping process. But what distinguishes genuine trends from short-term fads?
"When issues become entrenched in society, like Greta Thunberg and the sustainability movement, they are also reflected in design. Social movements influence design," explains Annie Kuschel, who heads the design team. And this goes far beyond what the eye see. Julia König explains, "The world of design is trying to solve problems—for example, by using sustainable materials." KURZ designers closely monitor how the world is changing and translate their observations into design concepts, combining trends with technology. "We need to understand both worlds. How playful can I be with transfer products? What's the width limit for lines in hot stamping?" says Kuschel. The KURZ creatives pass their experiences on to colleagues and work with KURZ application engineers to test the limits of what is possible. One of the outcomes of this process is completely new color effects. Metallized surfaces often give yellow tones a golden hue. So how to go about finding the right combination here? That comes from experience and experimentation. Kuschel: "We tackle new trends in a creative workshop once a year. Crafting, drawing, cutting, gluing, designing: we use both analog and digital designs to give a face to current trends and implement them using KURZ technology."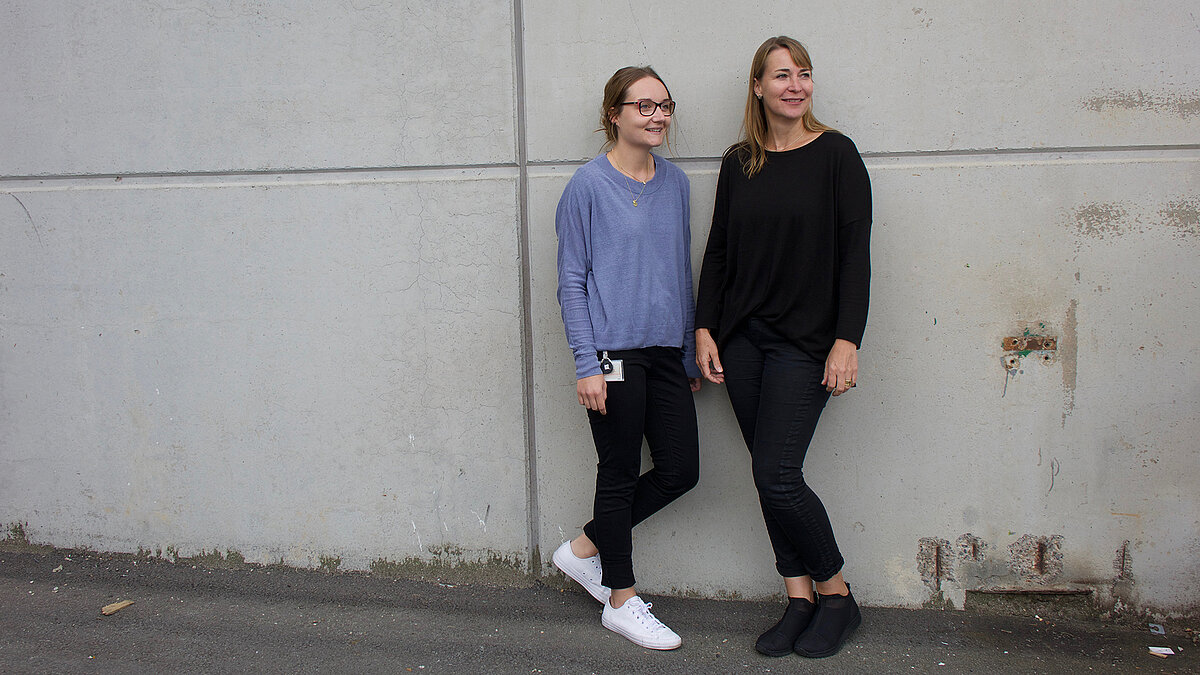 Looking into the future of design: Julia König (left) and Annie Kuschel (right). Photo by Franziska Kranz.
The creative minds behind the new "Box next to Box. two"
They convert trends into pioneering designs: Annie Kuschel (Head of Design Management Graphic Industry) and Julia König (Senior Designer). At KURZ, the two designers come up with new design concepts and combine them with KURZ products, from mood boards to finished products. Whether customer projects or international events, their work demonstrates that KURZ not only stands for innovative technology but also for outstanding, contemporary design.
Protests with a signaling effect. Outspoken social movements have recently emerged: #MeToo, #BlackLivesMatter, #FridaysForFuture. Our design concept THE OUTCRY is dedicated to the visual style of these upheavals. "Graffiti on concrete. Hand-lettered cardboard. Large, loud, striking. That's OUTCRY," as Annie Kuschel describes it. It is a theme that positively screams for bold colors and reflects moods with high-gloss surfaces. Striking, embossed motifs reminiscent of hastily sprayed graffiti are emphatic and insistent. KURZ's new LIGHT LINE® "Choice" also joins the action and highlights how expressive the topic really is. This box makes a clear statement for colorful freedom of expression.
The RE.MASTER.Y design concept looks back at the future. The focus is on finding older design solutions for us to rediscover and re-appreciate today. Centuries-old cultures and long-established craftsmanship are carefully examined and reinterpreted with modern technology, in particular with a look toward resource conservation and sustainability.
"Re-use. Recycle. Re-commerce. Using products in a different way than originally intended, or systematically omitting something, generates new ideas," explains designer Julia König in our interview. This can also lead to more sustainable solutions. "Sustainability is now a fundamental prerequisite for society, and not just a trend." A claim reflected throughout "Box next to box. two" as well.
What is reality? The CyBorn design concept explores a new universe, one where digital worlds meet haptic realism. Purple tones and typical RGB screen colors underscore the "cyberspace" increasingly integrated into our lives via laptops, smartphones, and digital screens. "We can do more in the digital realm than in our actual environment. Digital fashion introduces completely new clothing styles, with virtual changing rooms, digital try-ons, and fashion created exclusively for avatars," reports Annie Kuschel. The digital trend also reveals itself in numerous KURZ products: from Dream Composer and PolyIC innovations to KURZ Digital and labels with scannable security features. CyBorn combines all observations into a new look. The name CyBorn is made up of the terms "cyber" (on the Internet) and "born", a reference to the new Generation Z, a generation unfamiliar with life without digital worlds. The CyBorn designs are as fluid and iridescent as the boundary between the virtual and the real.
Whether business, politics, or sport: at all levels of society, old paradigms are being questioned and deliberately taking in female influences. The HERfection design concept is dedicated to this evolution. "A more feminine approach is associated with greater empathy and gentleness," says Julia König. This emotionality is especially evident in KURZ design because of the special feel created with hot stamping. "A pleasant touch evokes emotions. We use matte colors to help shape our observations on female empowerment." This is a hot topic everywhere. And according to Annie Kuschel, modern design can open new dialogs here as well: "It's not about whether a concept comes from a man or a woman. What matters is that their ideas are expressed, so they can spark new solutions."
All the themes presented in our "Box next to box. two" are much more than just trends. They embody social movements that will probably be with us for a long time, as will the CyBorn digital design concept. Annie Kuschel concludes: "Thinking about what an increasingly digitalized world means for humanity advances society. Design concepts can provide answers to how all generations can participate in the digital transformation." This in itself shows that the search for new trends and designs never ends. We are already looking forward to discovering the issues posed by future packaging concepts—look for the next edition in fall 2021!
Subscribe to newsletter
Validation error occured. Please enter the fields and submit it again.
Thank You ! Your email has been delivered.