Insights
Seventy thousand visitors on five trade fair days, in half of the usual halls: For KURZ, All in Print China 2020 was one of the first live fairs during the Corona pandemic, and it was anything but normal. orofin spoke to Peter Wang (Product Manager Graphics) of KURZ Stamping Technology (Hefei) Co., Ltd. about Corona's impact on trade fairs from an exhibitor's point of view.
Mr. Wang, what has been your experience of the Corona epidemic in your home country?
It seems like a cycle: worry, acceptance, boredom, adaptation, and again worry about a second wave. Naturally, my daily life has radically changed: wearing masks, social distancing, health QR codes, an international travel ban, a regional lockdown, and last, but not least, the economic downturn. As a positive side effect of the pandemic, I have lost a significant amount of weight as I have spent less time on business trips and more time exercising. "Fortune and misfortune are neighbours" is a Chinese proverb, so let's be optimistic about the future!
KURZ meets many of its customers at trade fairs. At the height of the crisis in China, did you have any hope at all of visiting a real trade fair in 2020?
We had no idea how long and how seriously the Corona virus would affect our business. After Printing China South China 2020 was initially postponed and later canceled, we were all shocked that DRUPA was postponed. As a result of the quarantine and lockdown, I concluded that it would be difficult to attend real trade fairs, at least in 2020. However, the turnaround has come about faster than expected. LUXEPACK SHANGHAI took place in July despite COVID-19.
How has the conception of the All in Print fair changed as compared to non-Corona times? What were the challenges?
The biggest challenge was finding the right balance between proactive virus protection measures and minimizing visitor inconvenience. In addition to wearing the mask, the health QR code, and the app to track travel history, the temperature of the participants was monitored with a thermometer. It was also the first time that the AIP was introducing "real name registration," which meant that participants had to register their ID card or passport beforehand and scan their ID cards into the reader at the entrance of the fair. But all of the measures were well-organized and efficient, there were no long lines, and personally, I did not feel any significant inconvenience compared to previous fairs. One obvious effect of the epidemic, however, was that the number of exhibition halls had been greatly reduced from the usual 13 or 14 to just seven in 2020.
What was particularly good about KURZ's AIP appearance despite, or precisely because, of the crisis?
With the largest KURZ-AIP stand ever (160 square meters) and a four-meter-high monitor wall, we had optimal presentation opportunities for our innovations and market trends, such as sustainability, Digital Metal®, LUMAFIN®, DREAMCOMPOSER®, and other topics. In addition, our newly devised on-site seminars were a real drawing card and crowd puller on all five days of the fair. The seminars worked even better than we had expected and made the KURZ stand the most visited and eye-catching one at the fair, despite the generally smaller crowds.
In retrospect, innovation is not limited to revolutionary technology and products, but also affects many aspects of our daily work such as marketing, service, sales mode, etc. We will certainly continue to be innovative with our trade fair presentations in China to strengthen the KURZ brand as an industry leader.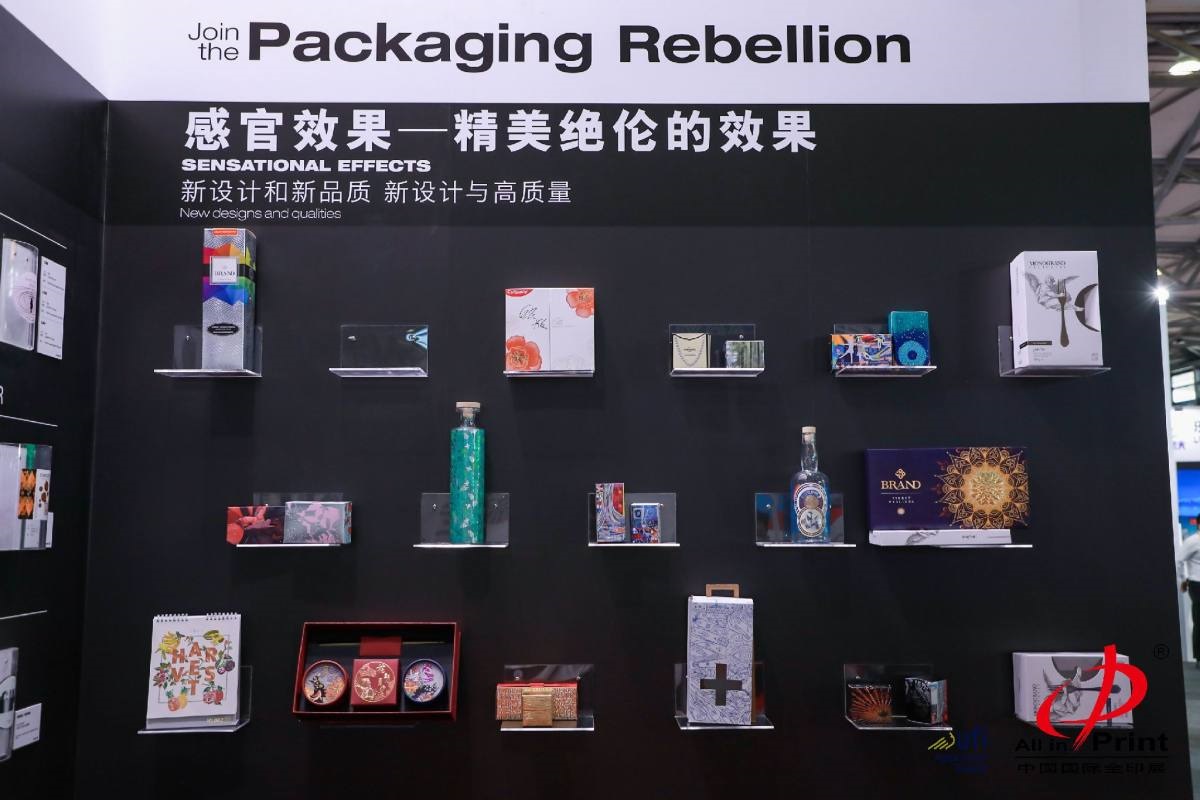 LEONHARD KURZ presented the latest products and solutions related to sustainability, hot stamping, cold transfer, DIGITAL METAL® and TRUSTCONCEPT®
What impressed the trade fair visitors at KURZ? What were your personal highlights?
Our core topics were sustainability, hot stamping, cold transfer, Digital Metal®, and TRUSTCONCEPT®. For each topic we presented the latest products and solutions from KURZ, such as LUMAFIN® and Nano Embossing for hot stamping, KPW XU and ST for cold transfer, and DM-JETLINER® for Digital Metal®. The HP Indigo 6900 + DM-JETLINER®, in cooperation with our partner HP Indigo and Syntax, was a special highlight, with two machine demonstrations daily on different substrates, as well as a beautiful digital metallization with overprinting, showing the production of custom labels for Bravo, the local Chinese craft brew brand. Personally, aside from the machine, I particularly liked the design, the fascinating, attention-grabbing power of the metallization/decoration. The DREAMCOMPOSER®, which was presented for the very first time, immediately received positive feedback from the design house and the brand owner. And the two label and packaging design walls, with impressive design samples from Leonhard Kurz Germany and LUXORO, were always jam-packed with marketing and design specialists who have a big influence on product packaging.
How has COVID-19 shaped the importance of trade fairs and what role do digital events play in China today?
In the first half of the year, over 6,000 major trade fairs were canceled in China due to the Corona epidemic, even though the travel ban had been relaxed. Nevertheless, most employees are rather reluctant to travel for business, so face-to-face marketing tends to be a rare exception. To give an example of the appreciation of live trade fairs after the pandemic, I took a business trip to Wuhan a week ago, the city in China with the worst COVID-19 outbreak. It was extremely difficult to get a hotel room without a reservation, because many live fairs and forums that were previously postponed are now being held there.
However, triggered by the "stay-at-home" order at the beginning of the year, the virtual events sector is also booming. For those who could not travel to Shanghai, the AIP organizer offered the online platform "All in Print Cloud," which remained open until November 10. Many companies in the print industry and most industry associations/media have set up their own digital marketing platform consisting of WeChat/Weibo, Livestream, Webinar, Zoom, or Tencent Video Marketing Meeting. As a result, I was able to watch several sessions of webinar or virtual forums in my WeChat Moment, which was hard to imagine prior to COVID-19.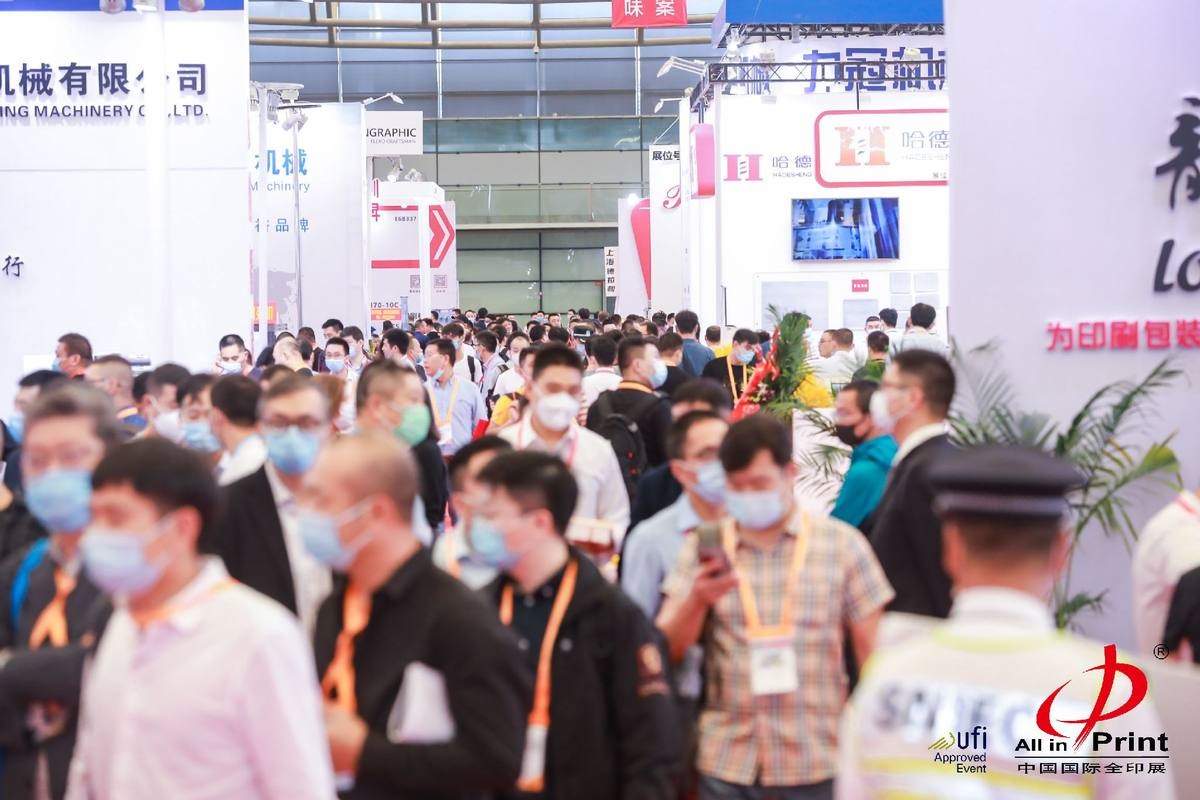 The trade show still attracted nearly 70,000 people.
Do you see a trend toward hybrid events?
Hybrid events are clearly a trend. In China, they are already the new normal. Most of the events I attended this year also had a virtual equivalent. Nevertheless, I believe that visitor experience at a virtual trade fair needs to be further improved, in terms of everything that is important at a live trade fair, i.e., information, product presentation, interaction, matchmaking, and personal communication.
Subscribe to newsletter
Validation error occured. Please enter the fields and submit it again.
Thank You ! Your email has been delivered.